Tottenham's Harry Kane flattered by campaign to get him to the World Cup
Harry Kane says he is concentrating on his Tottenham Hotspur displays, despite a campaign to get him to the World Cup.
Last Updated: 26/04/14 1:35pm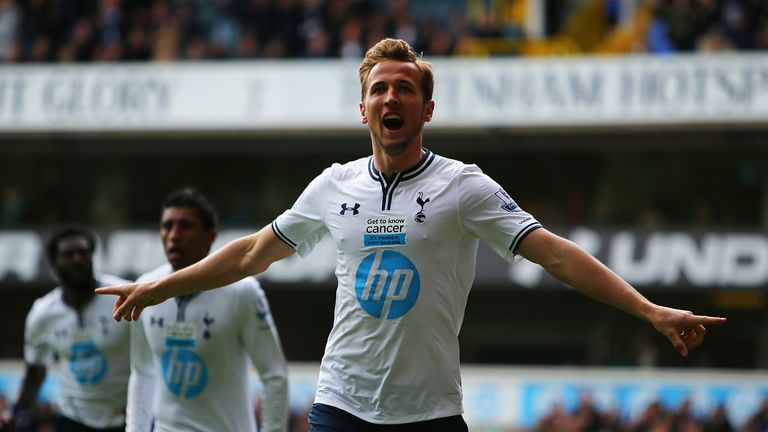 Spurs fans have started a 'Get Kane on the Plane' drive via Twitter, following three goals in his first three Premier League starts for the club.
Having scored more goals this season than West Ham and England striker Andy Carroll, Kane has emerged as a surprise contender for Roy Hodgson's squad for the tournament in Brazil - but the 20-year-old remains grounded.
"It's flattering that the fans said that. But I can honestly say I'm just focusing on scoring as many goals between now and the end of the season," he told the Sun.
"Who knows, if I get a few more in the three remaining matches, then anything is possible because stranger things have happened.
"Just look at what my mate Andros Townsend did at the start of the season. All of a sudden he was in the England squad and helps us get to the World Cup. You have to dream," he added.
"Mr Hodgson watches the matches and does give young players in form a chance. All I can do is keep scoring."
Following an impressive run of form for the youngster, Kane has reserved special praise for Spurs boss Tim Sherwood and is keen to repay his manager's faith.
"Tim is treating me exactly the same as before. He has always known I can score a goal or two. He has worked with me for a while and shown a lot of trust in me," he said.
"I was desperate to impress on my debut. Tim had given me a big chance - and scoring that first goal showed everybody, including myself, that I can score goals at the top level.
"I've been on loan at Leyton Orient, Millwall, Norwich and Leicester and scored consistently in all four divisions. I'm proud of my record."