World Cup: Roy Hodgson issues homesickness warning to England stars
Roy Hodgson has told his players not to bother going to the World Cup if they are worried about getting homesick.
Last Updated: 07/05/14 10:15am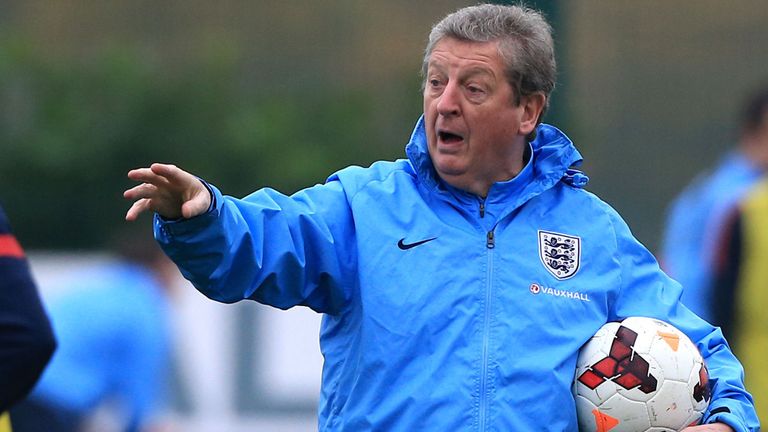 Hodgson's 23-man squad, which will be named on May 12, will fly to Portugal on May 19 to begin preparations for the tournament in Brazil.
They will then return to London for a friendly against Peru before heading to Miami for an eight-day training camp that will also include matches against Honduras and Ecuador.
If England make it to the World Cup final they will spend a total of eight weeks together - most of it away from their families.
Just before the 2010 World Cup, Leighton Baines admitted he was worried about going to South Africa because he would find it hard to be away from home for such a long time.
But Hodgson points out that a lot of Englishmen - particularly those serving in Afghanistan - have a lot more worrying problems on their plate, so the players should instead embrace the World Cup, rather than fear it.
"From May 12th the players are going to be away. They'll be with another group of players, doing maybe only one training session a day, so there'll be a lot of free time," Hodgson said.
"You're not going to be with your wife, you're going to not see your kids. But this is something you sign up for.
"Once you sign up for that, you shouldn't then be saying: 'Oh I'm missing my family; oh I'm bored. Or what can you do to help me?'
"It's complete nonsense, it's just one of those silly excuses that people use.
"You really cannot have that attitude. You've got to put your hand up and say 'I can't handle it' .
"Those soldiers sat in their barracks must have plenty of boredom in their lives."
Hodgson will lay on quiz nights and other "leisure activities", but the players will mostly be left to their own devices between training and evening team meetings.
"There is only so much you can do," he said.
"There are 23 different players and you can't put something different on for each player. You could have a quiz night and someone will say 'I enjoyed that' and someone else will say 'I hate quizzes'.
"Security issues are also a problem. In Poland we had plenty of opportunities to walk around but we'll have to accept it (in Brazil), like it was with me with Switzerland in Detroit (in '94), there was nowhere for the players to go."
Don't forget you can put yourself in Hodgson's shoes with Sky Sports' England Squad Selector. Click here to make your choices.