World Cup: Roy Hodgson does not want to dwell on England's dismal penalty record
England manager Roy Hodgson does not want to burden his players with talk about penalties until it is necessary
Last Updated: 11/05/14 6:53am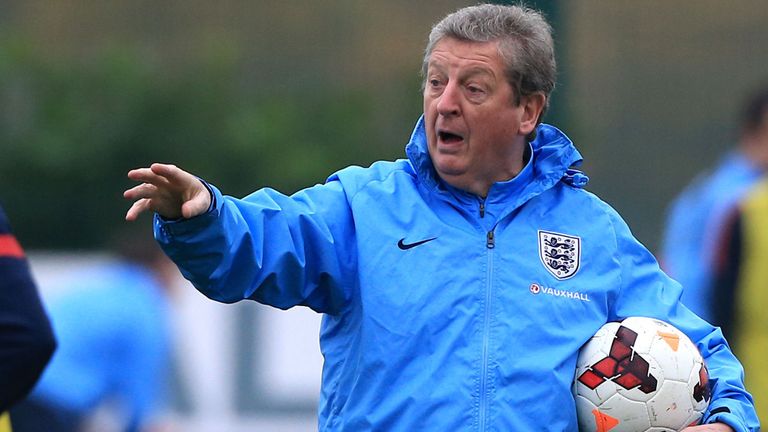 The 66-year-old will hope for no fresh injury concerns as the Premier League reaches its climax so that he can name his squad on Monday for the showpiece in Brazil.
England have a miserable penalty shoot-out record at major tournaments, winning only one of the seven that they have been involved in dating back to Italia 90.
But Hodgson says he will only discuss the topic at length with his squad if they qualify for the knockout stages.
"I've got to say the subject of penalties bores me a little bit," Hodgson said. "I won't be giving it an enormous amount of thought until we get out of the group stages,
"Of course we will practice a few, as every single team does. But I would think psychologically the obsession we have with penalty shoot-outs can only be negative in terms of succeeding in the next one.
"I'm not a psychologist, but I think if you go around all day worrying about a particular problem in life there's a much greater chance that problem will become greater than if you are able to put that problem out of your mind.
"The best way of not losing on penalties is not to get to them."
A lot has been made of Hodgson has appointing Dr Steve Peters as team psychiatrist but the England manager insists he has not recruited Peters with penalties in mind.
"If we win or lose on penalties, it won't be because Steve Peters has joined us," the former Liverpool manager said.
"Steve Peters has nothing to do with penalties. It's not his responsibility at all."
Hodgson also revealed he will not force his players to meet with Peters while on international duty.
"I've got a very curious group of players, an open minded group of players," he added.
"I wouldn't be at all surprised if quite a few others wanted to come and speak to him and find out what he's got to say, how they can better prepare mentally for matches.
"But I don't intend to say to the players 'This is Steve Peters, you must go to see him'. They will go to him if they want to go to him."