World Cup: Brendan Rodgers tips Raheem Sterling to shine at World Cup
Brendan Rodgers says Raheem Sterling is capable of being 'one of the stars of the World Cup' if he plays without fear.
Last Updated: 14/05/14 10:39am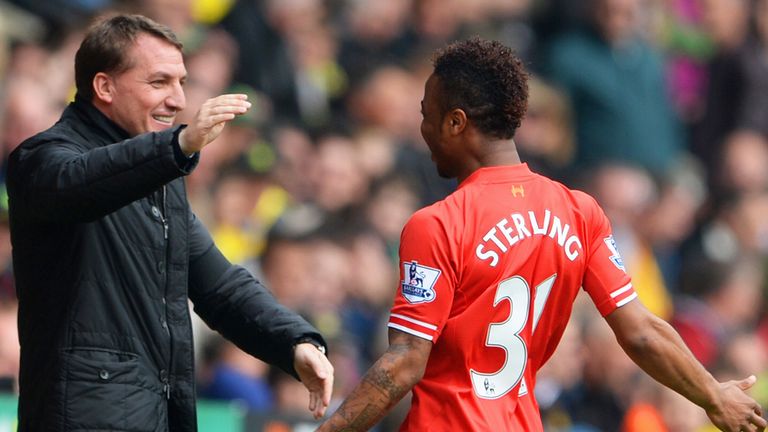 Sterling has earned a place in Roy Hodgson's 23-man squad on the back of a standout domestic season at Liverpool.
The 19-year-old made 30 appearances as Rodgers' men fell narrowly short in the Premier League title race and broke into double figures in terms of goals scored in all competitions.
Sterling was also nominated for the PFA Young Player of the Year award and is being backed by his club boss to shine on the global stage this summer as confidence courses through his game.
Rodgers said in The Times: "I think for Raheem, if he is given the opportunity to play how he can play - he is an offensive player, an attacking player, a creative player who works hard - if he is given that opportunity in whatever position, whether at the point of a diamond or on the sides, he could be one of the stars of the World Cup.
"As a 19-year-old boy, let's not forget he has been one of the top players in the Premier League, which is one of the most competitive leagues in the world, and if he continues to have that confidence to play with no fear he could be a really standout player - if he is asked to play that way. That is key.
"He has already shown that he can play in a league that is not just a British league, but one full of world-class international players.
"Sixty-odd per cent of the league is made up of players from around the world and he has already shown that he can play at that level.
"His best games have been against the best teams - Arsenal, Manchester United and Manchester City - so he is more than capable."
Sterling is one of five Liverpool players to have been selected by England, along with Steven Gerrard, Daniel Sturridge, Jordan Henderson and Glen Johnson, while Jon Flanagan has been placed on standby.
Roy Hodgson will lean heavily on his Anfield aces in Brazil, but Rodgers has warned that his key men must be surrounded by players of a similar mentality if their club form is to be replicated in an international environment.
He added: "It's not as easy as just having that core because the whole mindset has to be aligned.
"The success we have here at Liverpool is because we are a team and we are very much focused on a real belief in a way of working and a way of playing. That is about culture and environment.
"If you take those players out and play them in their positions, and play similar players around them who understand the philosophy and have the mentality, then of course they could do very well. But it is certainly not as easy as taking the players out, because it is about an attitude to the game which is important.
"It is not just a case of go and play. We have a very structured way in which we work. People see our movement and fluidity and there is a freedom within that, but there is still a responsibility when you haven't got the ball. But certainly if you assess the talent and allow that to flourish and give them confidence, you never know where that can take them."