World Cup: England places still up for grabs, says boss Roy Hodgson
England boss Roy Hodgson insists any player in the squad can force their way into his starting line-up at the World Cup.
Last Updated: 21/05/14 7:27am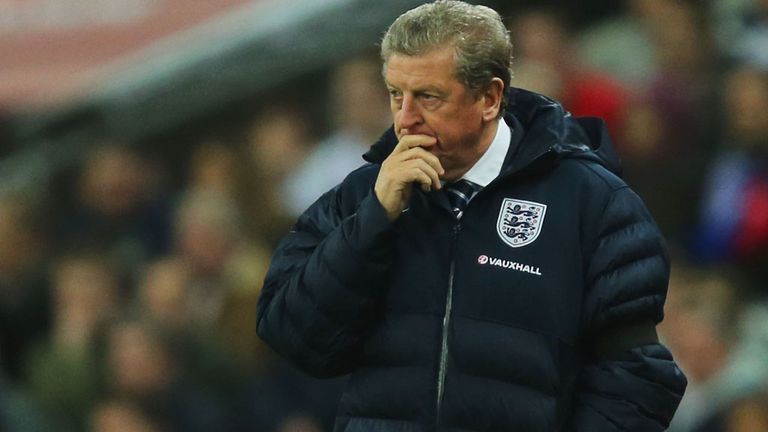 The 23-man squad, plus standby members Jon Flanagan and John Stones, are at the Vale do Lobo resport in Vilamoura, Portugal, to continue their Brazil preparations with all players involved in Tuesday training to ease some of their injury concerns.
The sight of Manchester United's Phil Jones, selected in the squad despite a shoulder problem, in action will be a big boost for Hodgson who had feared the versatile defender would not recover in time.
The idea of a warm-weather camp in the Algarve has been hampered by showers and low temperatures, but the forecast is much better for later in the week, which will help England to get used to the sweltering climate that awaits them in Manaus.
With England's opening Group D game against Italy on June 14, Hodgson remains open-minded regarding team selection and said: "I have many ideas but no firm ideas.
"Not yet. I don't need to do that yet. We are a long way off. I don't know how the players are going to be performing in three or four weeks' time. I don't know how their fitness will be either."
The team will be desperate to gain revenge on the Italians who knocked them out of Euro 2012 on penalties following an energy-sapping 0-0 draw in Kiev.
"We are doing a lot of video work in Portugal and we will be showing the players in units aspects of the Italian game and how that affects us and what we are going to be wanting to do," Hodgson added.
"We are not doing it as individual players. We are talking about how our midfield is going to attack or defend. It will be all the midfielders and not just the four or five who we might choose."
Hodgson and his squad will return to England on Friday before reconvening at St George's Park on Monday - four days prior to their farewell friendly against Peru at Wembley.
Two days before that game, Hodgson will be joined by coaches Gary Neville and Ray Lewington to return to his former club Fulham to watch Italy play Republic of Ireland in a friendly.
"I shall be there, but I shall be very careful with my judgements because those games are notoriously tricky," the 66-year-old said.
"You either come away being very impressed or unimpressed and then the team you meet a few weeks later in a competitive game can be a totally different kettle of fish to the one you have seen in the friendlies.
"So I will be watching it and getting a few more ideas on the players I feel I know quite well anyway, but I won't be making very bold judgements as competitive matches are very different."
Following the Peru game on May 30, the Three Lions travel to Miami where they face Ecuador on June 4, two days after all teams must reveal their final 23-man squads for the World Cup.
Honduras will be their opponents in their last preparation friendly on June 7, before they head out to Brazil on the following day.