England striker Wayne Rooney will have no excuses if he fails to shine at the World Cup
England striker Wayne Rooney believes the World Cup in Brazil is his last chance to shine on the biggest stage.
Last Updated: 23/05/14 7:20am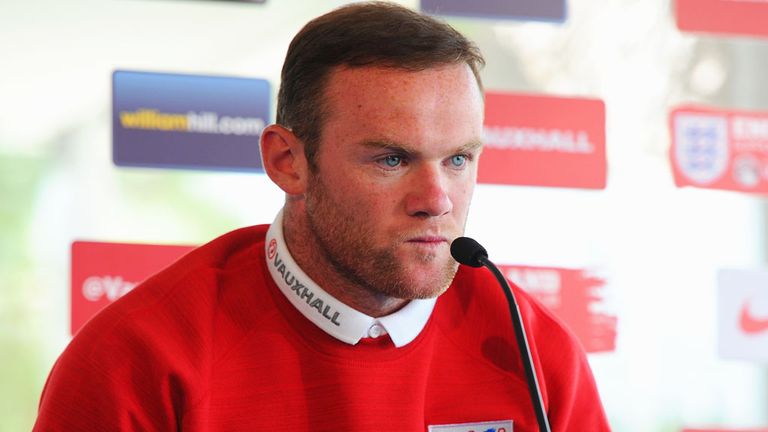 Rooney is one of the senior players in Roy Hodgson's England squad and there will be plenty of expectation on him to perform if the team are to progress from a difficult Group D, featuring Italy, Uruguay and Costa Rica.
As an 18-year-old, he burst onto the international scene at Euro 2004, earning a place in UEFA's team of the tournament.
But Rooney has struggled at major competitions since then, with injuries hampering him at World Cups in Germany and South Africa.
There should be no fitness concerns on this occasion as Hodgson praised the striker's condition after he flew out early to the training camp in Portugal.
"I've been here before and I've said what I feel I can deliver and what I can do and it hasn't happened," he said.
"I think this is the one where I have to show what I can do. I believe I am in the best possible shape and the best condition I can be in to do that.
"I am ready for it. I am excited for it. There will be no excuses this time if I don't perform. I certainly won't be looking for any excuses this time.
Asked if he is in a better frame of mind than previous tournaments, he said: "Yeah, I am. I feel good. I am settled at home with my family.
"I have no issues whatsoever and I am ready for this tournament. I am going to give everything and leave everything on the pitch.
"As I've said before, I won't have any excuses this time if it doesn't come off."
At the age of 28, the Manchester United man is in his prime, and accepts it could be now-or-never if he wants to play a leading role for England.
"For us, as a nation I think it is the one thing that is missing," he said.
"And then for me personally, I feel the World Cup in 2018, I'll be a bit older then so it will obviously be difficult to impact that the way I believe I can do.
"So, I feel this is the really last big one that I feel will probably get the best out of me. I feel ready, fresh and as good as I can do to go into this tournament."
Rooney has been joined by an exciting crop of youngsters, including Southampton duo Adam Lallana and Luke Shaw, and Everton's Ross Barkley.
He believes the mix of youth and experience in the squad has turned England into genuine World Cup contenders.
"We can go far [at the World Cup]," he said. "We have got the players and our aim is to win the tournament.
"We don't want to be going there saying we would be happy getting to a quarter-final or even a semi-final. Our aim is to win the tournament - that is what we are preparing for, that is what we hope is going to happen."