Sky Sports News' Gemma Davies reports from England's training camp in Portugal
Sky Sports News' Gemma Davies reports from Portugal, where the England squad have been acclimatising for Brazil.
By Gemma Davies
Last Updated: 23/05/14 2:14pm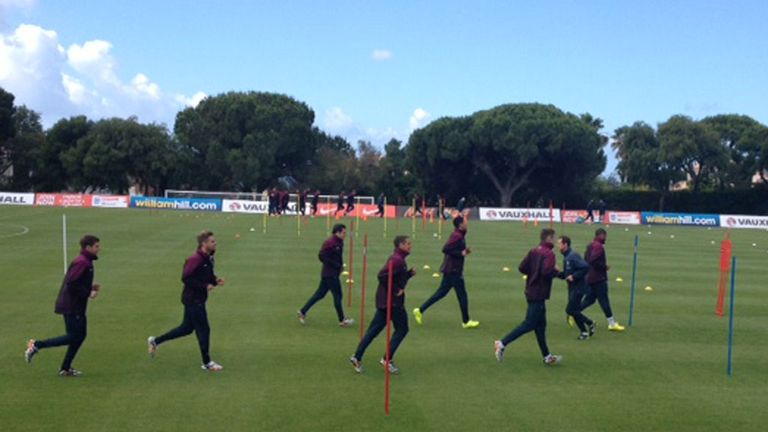 Roy Hodgson believes England's World Cup journey starts here in Portugal, and it certainly felt like the countdown was well and truly on with just over three weeks until their opening match against Italy.
However, the 'warm weather training camp' in Vale do Lobo served up a surprise with strong winds and rain showers, although Hodgson's men were still treating this as an opportunity to prepare for Brazil and its challenging climate.
The squad began the session in tracksuits rather than the usual shorts to try and simulate the heat that they are likely to experience in a few weeks' time.
Little did they know that those extra layers would actually be the perfect cover up from the rain showers on the Algarve.
The Sky Sports News crew could certainly have done with them the evening before as we got caught in the sort of rainstorms that we will be experiencing in Manaus!
Hodgson's reign as England manager began with a Euro 2012 campaign plagued by injuries, so he will have been pleased to see his squad looking in good shape on the training pitch.
Not only did the players look relaxed in the hour-long training session we witnessed but back at the hotel complex, several of the players were out on the golf course or on the practice putting green. There really is a sense listening to the players that they are also using this week to get to know each other better.
In his post-training news conference, Hodgson spoke of the role Wayne Rooney could have at this tournament. That morning in the training session, we saw Rooney sit out a shooting drill - something that Hodgson told us later on that Rooney was disappointed not to be included in.
Rooney also spoke to the media in the afternoon and he was calm and happy to answer whatever was asked of him. He seems to have matured and grown into his role as one of the senior members of the squad - although he did remark 'I'm not that old!'
England will remain in the Algarve until the end of this week before returning home to prepare for the visit of Peru to Wembley next Friday.
Roy Hodgson's World Cup plans are now in full swing and so far the squad looks relaxed - but excited about what surprises they could produce in Brazil.