Liverpool's Daniel Sturridge needed opportunity to prove his worth
Daniel Sturridge is grateful to Liverpool for giving him a chance to prove that he can be a prolific central striker.
Last Updated: 26/05/14 10:23am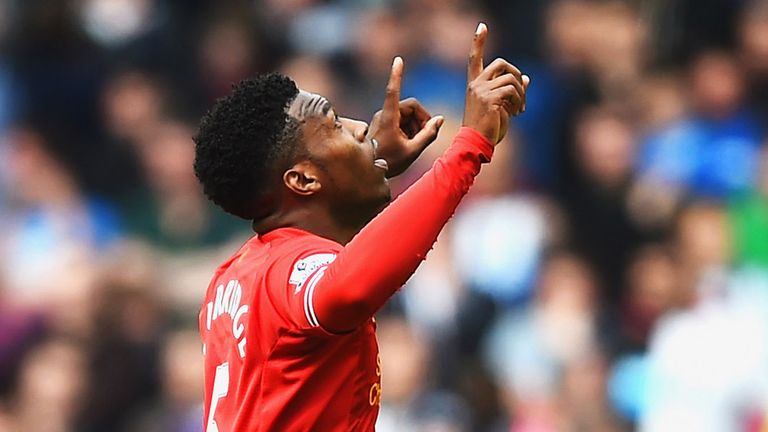 The England international burst onto the scene as a promising frontman at Manchester City, but took the opportunity to run down his contract the Etihad Stadium and move to Chelsea in 2009.
An initial lack of opportunities forced him out on loan, with a spell at Bolton Wanderers showing that he could get goals at a Premier League level.
Chelsea remained reluctant to deploy Sturridge down the middle, though, and he soon grew disillusioned with life on the flanks.
A switch to Anfield in January 2013 offered him a clean slate, and the 24-year-old has responded with 35 goals in 49 games - a return he always believed he was capable of providing.
Sturridge said in the Daily Telegraph ahead of his involvement at this summer's World Cup: "I've just been given the opportunity, and that's what I've asked for in the past.
"That's what I've said, 'Give me that opportunity and then I can try to show what I can do'.
"I think that it's down to the club which players they want to give a chance to and the philosophies they choose.
"I can't speak for Chelsea or City and say they were wrong in this or that. When you've got money, it's very easy to buy someone worth £50million, rather than say: 'I'm going to play this 20-year-old English player'. It's easier to buy someone when you have the money to do it.
"But at the same time, if you give somebody an opportunity, you never know. You can only roll the dice and see how they perform.
"I'm thankful for everything that happened at those previous clubs. Man City put me on the map in terms of giving me a chance to play in the first team environment and Chelsea also helped me to improve mentally and as a footballer. I won trophies there.
"Sometimes people change clubs. I would never regret anything."
While he has proven himself to be more than capable of leading the line, Sturridge insists he would have no complaints if England boss Roy Hodgson asks him to fill a wider role again in Brazil - with Wayne Rooney also looking to provide a cutting edge.
He added: "I think you have to do what's necessary for the team.
"We all want to be successful, we all want to achieve something special in terms of it having been a long time since we had success.
"Myself and Wayne get along really well off the field and we get on well on the field. Whatever formation the manager chooses, whether it is two up front or one up front, someone is wide, someone on the bench, it could be me, it could be Wayne.
"My preference is as the central striker, but it doesn't really matter what my preference is. If you can play wide, you play wide. If you are asked to play central, you play central."