World Cup: Jordan Henderson says England's Liverpool players are full of confidence
England midfielder Jordan Henderson insists there will be no hangover from the season among his Liverpool team-mates.
Last Updated: 27/05/14 5:03pm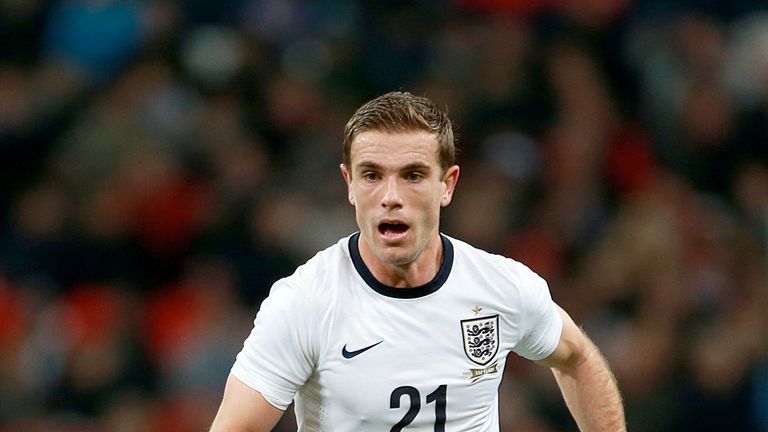 Henderson is one of five Liverpool players in Roy Hodgson's England squad, along with Glen Johnson, Steven Gerrard, Daniel Sturridge and Raheem Sterling.
Having pushed Manchester City to the last day of the season in the race for the Premier League title, Henderson is adamant the Liverpool players are taking the positives from the campaign.
Henderson said: "Well, I think obviously after the last game of the season everybody would have been a little disappointed, that's just natural, but at the same time we were very proud of what we achieved in the season and how far we've come on.
"So everybody was delighted by that, the bigger picture if you like. So I think the lads at Liverpool are coming here full of confidence and raring to go for the World Cup."
Meanwhile, the former Sunderland favourite feels his game has developed through playing beside Gerrard on a regular basis under Liverpool boss Brendan Rodgers.
And he reckons his partnership with the Reds captain will benefit the national team as they prepare for the Group D schedule.
Henderson said: "I feel as though since I've been at Liverpool Steve has helped me a lot personally on the field, you just pick up little things when you are training with him and especially when you are playing with him every week. He's really been a help to me and I'm sure a lot of the younger lads as well.
"Hopefully we've just got to keep that relationship going for as long as possible for Liverpool and hopefully we can bring it to England.
"I feel as though I'm improving all the time with the likes of the manager at Liverpool, the players around me and obviously coming here and working with the manager, the staff and the players at England. I feel as though I'm always improving.
"So I've just got to keep working hard, keep believing in myself and just keep doing what I've been doing."
England's Liverpool contingent could come up against Luis Suarez in their second group game at the World Cup, although the Uruguay striker remains a fitness doubt following a minor knee operation.
Uruguay are optimistic that he will be ready for the tournament, and Henderson fully expects his Liverpool team-mate to get himself fit and available.
"The people that know him will be very disappointed because he is a big player for Uruguay," said Henderson.
"I gave him a text just to say I hope he's doing okay and good luck with whatever he has to have done.
"But I am sure, knowing the type of person he is, he is a fighter and I am sure that come the first or second game of the World Cup he will be ready and raring to go."
James Milner and Leighton Baines were the only absentees from England training on Tuesday ahead of the friendly with Peru.
Milner missed the session at St George's Park in Burton with a cold and Baines was allowed to leave the squad briefly to deal with a family matter.
England's main injury worries, including Manchester United duo Wayne Rooney and Phil Jones, were able to take part in training along with Arsenal's Jack Wilshere and Alex Oxlade-Chamberlain.
Wilshere is hoping to use the warm-up games as a platform for the World Cup, having not started a match since March after fracturing his foot in England's friendly against Denmark at Wembley.
The Arsenal midfielder said: "I've been training for a long time now. I'm yet to play a game, but I've been training now for six weeks.
"I'm feeling well. I maybe need a few games, but I'm feeling good. Hopefully I can get some games under my belt before the big kick-off."