England leave for Miami ahead of final pre-World Cup friendlies
England's World Cup squad have left for Miami to complete their final preparations for Brazil.
Last Updated: 01/06/14 8:38pm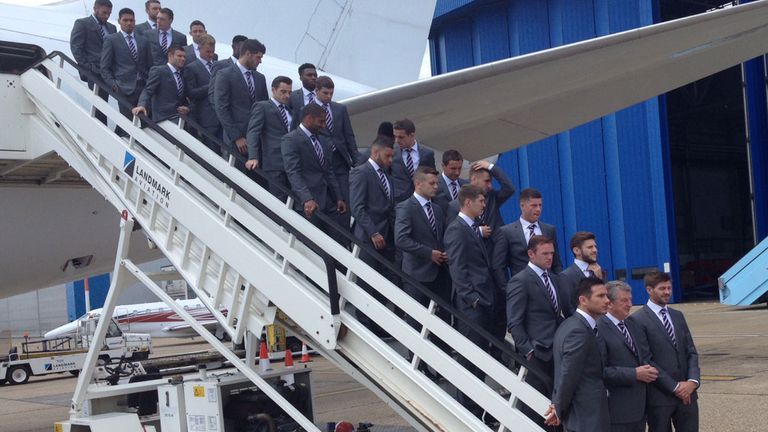 The 23-man squad, along with standby players Jon Flanagan and John Stones, boarded a plane at Luton Airport ahead of what they hope will be six weeks away from home.
England have two friendlies lined up in the United States - Wednesday's game against Ecuador is followed by a meeting with Honduras on Saturday - and Roy Hodgson plans to give every player a run-out.
Neither Phil Jones nor Alex Oxlade-Chamberlain made the bench for Friday night's Wembley win against Peru, but both are expected to start against Ecuador.
Speaking to Sky Sports News on the tarmac at Luton, the England manager said: "I certainly want no injuries, so I'll be concerned about that, but it's a case of getting everyone on the field of play and giving everyone a chance to get some minutes before we go into the tournament itself."
And Hodgson says he and his players are comfortable carrying the hopes of supporters into the finals, which begin on June 12 and finish in the Maracana on July 13.
He said: "It's without a shadow of a doubt going to be great adventure. We're all excited, we got a perfect send-off on Friday night and we're profiting from a very positive mood. We're positive and we'll do what we can.
"We know we're carrying a lot of hopes and dreams with us. We'd never suggest we don't want that responsibility and there's certainly more excitement than trepidation."
Wayne Rooney is also feeling positive ahead of the World Cup, saying England's young squad can take the tournament by surprise and go all the way to the final.
"The one weakness is that we have a lot of players who haven't got any real experience of tournament football," said Rooney.
"I don't think anyone can predict what will happen to England in Brazil - and that's why I am really excited about this World Cup.
"I've got absolutely no idea how we are going to perform.
"We could have a massive impact on the tournament, go all the way to the final and surprise everyone.
"All I can say is that the potential and quality we have got in this squad is really exciting.