World Cup: John O'Shea says England can take positives from Ireland's draw with Italy
John O'Shea believes that England manager Roy Hodgson can take positives out of Ireland's goalless draw with Italy.
Last Updated: 02/06/14 11:19am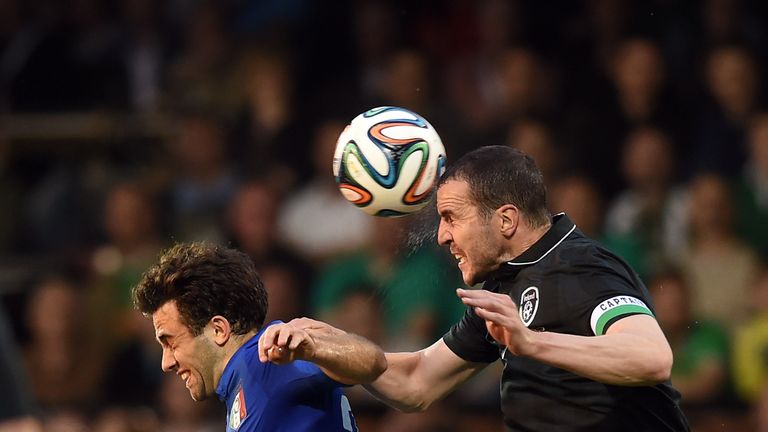 Saturday's friendly at Craven Cottage gave Hodgson another chance to assess the Italians, who England will face in their opening World Cup game in Manaus on June 14.
Italy manager Cesare Prandelli decided to rest star players Andrea Pirlo and Mario Balotelli, who are likely to feature in the Azzurri's final friendly against Luxembourg in Verona on Wednesday.
England started their World Cup journey on the back of a comfortable 3-0 friendly win against Peru at Wembley on Friday, and O'Shea feels Ireland's solid performance against Italy will boost Hodgson.
"I'm sure the watching England manager was pleased that we did create so many chances, so he'll have lots to look back on and I'm sure he'll have a look at the DVD," O'Shea said.
Martin O'Neill's side defended well against the Italians, but O'Shea expects them to be a much stronger force come the World Cup.
"Once we kept quite compact, we shut them out and made them go wide and we were able to deal with that process," O'Shea said. "So that was the pleasing aspect from our point of view, but the Italians will be a much stronger unit come the start of the World Cup."
The friendly was overshadowed by an early injury sustained by midfielder Riccardo Montolivo, who will miss the World Cup after breaking his leg in a collision with Alex Pearce.
"We had no intention of going out to hurt people, especially before a World Cup," said O'Shea, "so that was an unfortunate accident and a disappointing aspect of the night."