World Cup: James Milner thinks England will be well prepared for Brazil
James Milner says England cannot use their preparation for the World Cup as any kind of excuse in Brazil.
Last Updated: 03/06/14 8:31am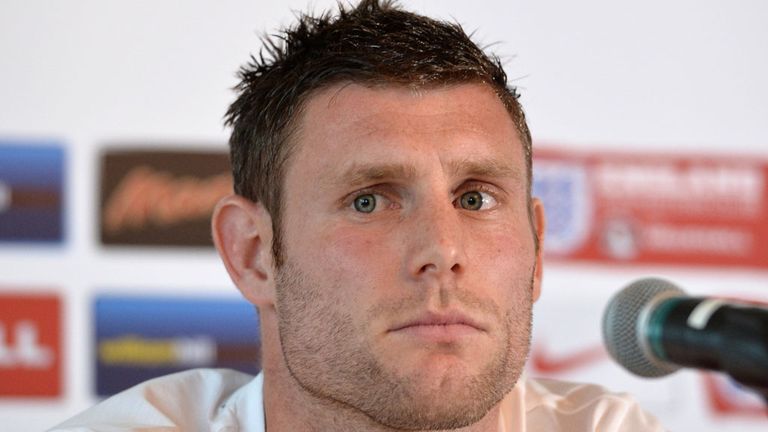 The Manchester City midfielder paid tribute to manager Roy Hodgson for his meticulous attention to detail in England's first press conference after their arrival for a training camp in Miami.
England were met by inclement weather, with most of the squad having to do a light training session indoors, but Milner says experiencing the hot and humid conditions in Florida - perhaps without the heavy rain - is just what they need before heading south.
They take on Ecuador on Wednesday and Honduras on Saturday, both in Miami, before leaving for Brazil where their Group D campaign begins against Italy on June 14 in the sweltering Amazon city of Manaus.
"That's the whole reason why we are here," Milner said. "We've done the preparation as best we can up to this point, using the layers and other methods.
"No stone has been left unturned so we're more than ready. Now we're here it's mimicking the conditions we are going to have out in Brazil so it's perfect preparation.
"From that first game I don't think we're going to be able to be any more prepared than we will be.
"Every squad is going to feel different, with different players and managers change over the years, but I think there is a great mix of younger players and five or six of us who have been to a World Cup who can help them out.
"Everybody is really focused and ready to go, there is a real professional feel around the squad and everyone knows exactly what is expected of them.
"Preparation has been second to none, we've covered every base and the lads are raring to go, and with two more games to go it's a perfect lead in in these conditions."
On his own place in Hodgson's team, he added: "All you can do is train as well as you can and if you get a chance to play in the warm-up games, play as well as you can to set your marker down.
"The manager has been watching us for so long now, and has seen us play in so many games, he knows exactly what we can do anyway. Hopefully everyone is fit and he makes the decisions off that.
"But it's helpful if we put on good performances and take that momentum into the tournament."
Milner admitted his focus is firmly on Brazil despite continuing talk about his future with City, where his contract expires at the end of next season, and he offered no hints about where he may be plying his trade in 2014-15.
"That's football, how quickly things move," Milner said of the transfer talk. "We've had a great season with Man City, won the title and had five or six days to enjoy it and then it is gone, forgotten about and I'm concentrating on the World Cup.
"Once the World Cup is done, you are trying to win the league again so unfortunately you don't have that long to enjoy things. But football moves quickly and at this moment in time the only thing is the World Cup.
"You don't get too many opportunities to play in a World Cup in your life. It is an amazing spectacle and everyone in the squad is really excited and looking forward to that."