Roy Hodgson to field experimental England team against Ecuador with Wayne Rooney to play on left
Roy Hodgson will field an experimental XI in England's warm-up game against Ecuador with Wayne Rooney on the left.
Last Updated: 04/06/14 7:17pm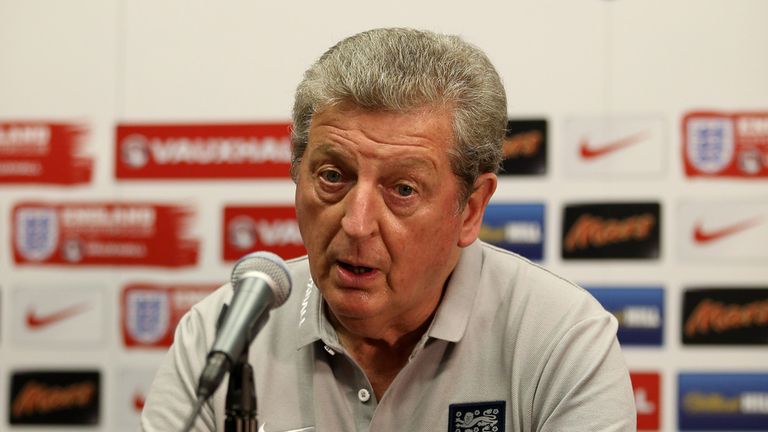 Hodgson confirmed Rooney would start his second successive game in order to prove his fitness following a groin problem - but he is likely to be on the left hand side.
The Manchester United forward has previously admitted to feeling uncomfortable out wide. In 2009, after a run of games playing out wide for Manchester United, the now 28-year-old said: "I don't think playing on the wing I can express myself as much as I like to."
But Hodgson has no qualms about tinkering as his side's tournament opener against Italy draws closer.
"He can do that (role), absolutely," said Hodgson, who also confirmed that Frank Lampard would captain the side and James Milner would start at right-back.
"I think Wayne's a very useful player in the sense you don't have to pin him down and say this is the only position he can play.
"He can play centre-forward, behind the centre-forward and wide. If he's done all of those things at the very top level for Manchester United, there is no reason why I can't use him in those positions as well."
Arsenal's Alex Oxlade-Chamberlain and Manchester United defender Phil Jones are also expected to line up from the off at the Sun Life Stadium, while Southampton left-back Luke Shaw could take over from Leighton Baines.
Addressing the media alongside Lampard, who replaces rested skipper Steven Gerrard, Hodgson confirmed that all 25 players had come through Tuesday's training session unscathed.
"They all played a full part in training and I'm happy that, at this stage, after two-and-a-half weeks of training, we don't have any injuries," he said.
"We have two more preparation matches and I'm hoping we get through those. It would be marvellous to get on the plane to Brazil with all 23 players because, after this Miami part, the two young guys Jon Flanagan and John Stones will leave us.
"There will be changes in the team for Ecuador, no question, but I can't speak in detail because of reasons we often cite. There will be a team meeting tomorrow where we'll talk about Ecuador and I will perhaps tell the team who is playing then."
The squad was forced to abandon their first training session at Barry University on Monday after torrential rains flooded the pitches and forced Hodgson to take his players inside.
It is the start of the hurricane season in the south-eastern part of the US but Hodgson hopes the heat and humidity will play a huge part in helping his players acclimatise.
"It's warm out there and conditions are very similar to those we will encounter in Brazil," he added.
"In terms of acclimatisation, we couldn't have come to a better place and we are happy with the initial part of our preparations.
"The measurements we've taken in terms of the players' sweat analysis are important. Not all players sweat in same way and they will need different hydration from each other.
"We will be making sure we continue with our tactical work while we are here and building one step at a time."