World Cup: Alex Oxlade-Chamberlain claims England squad are full of enthusiasm
Alex Oxlade-Chamberlain insists England are heading to this summer's World Cup in Brazil brimming with enthusiasm.
Last Updated: 04/06/14 4:47pm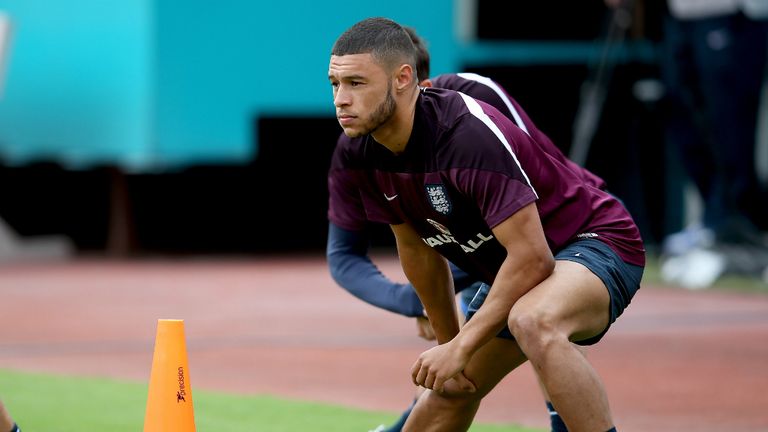 Roy Hodgson's squad are currently in Miami for warm-up matches against Ecuador and Honduras before travelling to Brazil for their opening match against Italy on June 14.
Past World Cup campaigns have seen England burdened by expectation, but Oxlade-Chamberlain insists the present crop are not going to be deterred by a sense of optimism.
Golf is a big one. The best are James Milner and Phil Jagielka. We don't count them because they are in a different league to the rest of us Average Joes.
Alex Oxlade-Chamberlain on relaxation
Hodgson's decision to recruit psychiatrist Dr Steve Peters has been well-documented and the Arsenal winger revealed the message is clear.
"We can't control what is being said about us, how people approach it and the expectation levels that are put on us as a squad and as individuals," he told the Daily Telegraph.
"We are going there to do the business and win it. They are the expectation levels we put on ourselves.
"It will take a lot of hard work, a lot of great performances and maybe a bit of luck along the way to achieve that but we are not going there as an inexperienced team to not do well."
Oxlade-Chamberlain is one of 11 players in Hodgson's squad yet to have experienced a World Cup, but the 20-year-old insists it is an exciting prospect.
Enthusiasm
"The young element of the squad is an exciting one and definitely brings a freshness to the team but it's not just young enthusiasm," he added.
"All the young boys who have come in are really talented and deserve to be there. I think it's a really good mix. We are a young team with great experienced players helping out the young boys as well.
"It's not a fresh start as such but in a way it does feel like that because there are quite a few new faces around the squad. It's quite refreshing. It's great to be around the camp."
As well as expressing an air of optimism, Oxlade-Chamberlain also revealed the emphasis being placed on relaxation within the England camp.
"We understand that Brazil is a long way away from friends and family," he admitted.
"It's one of the small sacrifices you have to make to be lucky enough to come to an amazing tournament like the World Cup. You are in a hotel for a long time.
"The good thing with our manager is he does understand that there are times, if possible, when a mental break from football for six or seven hours is really good.
"Little breaks are good because then you can hit the ground running when it comes to training. He did that in the Euros with us."
Dangerous
Replicating the humidity England will face in Manaus has been another key feature of their training camp, but Oxlade-Chamberlain expects Italy will suffer a similar shock.
"A lot of people have built up Manaus as a dangerous place to play but at the end of the day it is just going to be a lot hotter and a bit harder to play in," he added.
"As players, we can't worry about that. If you do, your performance levels will drop. The doctors and the sports scientists in the camp are the ones that are worrying about what different techniques they can use.
"It's going to be the same for all countries out there. I think for Italy, it will be a shock to their system as well."