World Cup: Roy Hodgson still finds plenty to enjoy from England's draw with Ecuador
Roy Hodgson was in a fairly positive mood after his side's 2-2 draw with Ecuador in a pre-World Cup friendly in Miami.
Last Updated: 04/06/14 11:53pm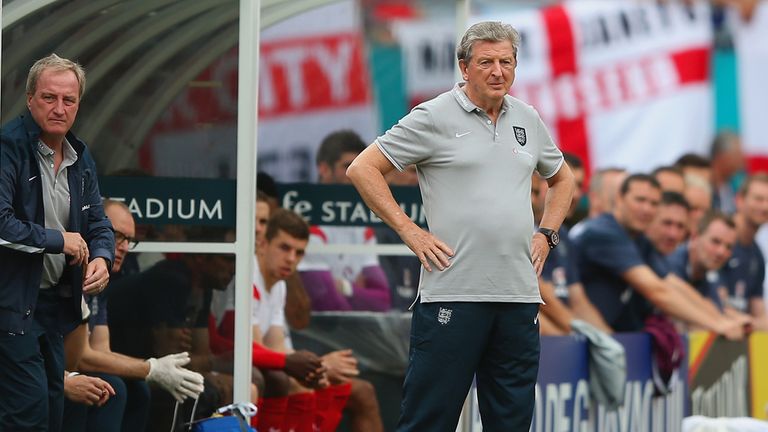 Hodgson felt the clash at Sun Life Stadium was a 'very good game' and he admitted performances from some of the players who he might not have expected to compete for a start in Brazil were impressive.
He also had negatives to deal with as Raheem Sterling was sent off for a late tackle on Antonio Valencia - who also saw red - and Alex Oxlade-Chamberlain suffered a worrying injury that will need a scan.
But it was experienced duo Wayne Rooney and Frank Lampard who earned the plaudits, Rooney scoring England's opener and Lampard performing well alongside Jack Wilshere and Ross Barkley in midfield.
"Rooney and Lampard I thought were immense," Hodgson said. "It's hot out there, they have got a lot of young players around them and I thought they really showed their maturity and we saw the benefit of that.
"That proves to me as well that we have a balance between experience and youth and I shall go away from today's game relatively happy.
"It would have been nice to win it but certainly there were many positives I can take from it.
"I thought it was a very good game. I was disappointed with the sendings off, and the potential injury to one of our players - but as a friendly, a warm-up match for our players, it was good.
"They tested us but we dealt with them very well for long periods, and caused their defence many problems. We could have been several goals up before they scored their goal."
Barkley's performance caught the eye of pundits but Hodgson went on the defensive when asked if he had played his way into his selection plans for the clash with Italy in Manaus on June 14.
"I think Ross Barkley had some good moments," Hodgson added. "I think he needs to learn when he can turn with the ball and when he has to keep the ball. But that's quite normal for a player his age. He'll be quite happy to have played so long on his first start.
"There always seems to be an enormous obsession with one player...
"I will be prepared to start any of the players in any game, but I'm not prepared to address your obsession with Ross Barkley.
"If he's going to be the player we want him to be, he has to make better decisions of when he turns with the ball.
"That's not a criticism, but there were other performances out there today. Oxlade-Chamberlain and Phil Jones were outstanding, as was Jack Wilshere in the middle of the park, while Rickie Lambert scored a magnificent goal."