World Cup: Frank Lampard likens Ross Barkley to Wayne Rooney in teenage days
Frank Lampard sees plenty of qualities in Ross Barkley that he was around to witness when Wayne Rooney was a teenager.
Last Updated: 06/06/14 7:16am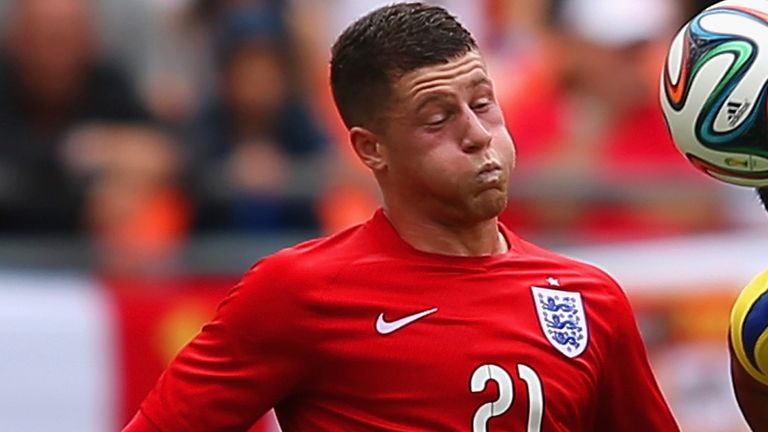 Rooney scored four goals in that in Portugal as an 18-year-old, earning a place in UEFA's team of the tournament and a move from Everton to Manchester United, where his success continued.
Barkley sparkled on his full international debut in England's 2-2 draw with Ecuador on Wednesday, his solo run and pass setting Rickie Lambert up for the second goal.
And Lampard felt his confidence on the ball was much like Rooney showed as a precocious teenager, leaving him wanting more as Barkley attempts to earn a place in Roy Hodgson's starting line-up by the time they start their Group D campaign against Italy on June 14.
Hodgson tried to calm expectations of Barkley after the Miami match but Lampard was happy to wax lyrical about his new team-mate, saying: "There's a lot of similarities in there, in their build, where they come from and where they play. You can't deny that.
"Again, it's that fearlessness of youth. I see the similarities. Great ability on the ball, running at people with the ball and that's what you want to see.
"I think he's got the bit between his teeth. He's more number 10 than I ever was but he's very good at receiving the ball and turning quickly.
"He's only going to get better. That's his first start so considering that when you look at him and what he's done, he's made the second goal and shown enough there that we can say that he deserves his place in the squad and he's a great addition.
"We go to Brazil next week and hopefully he's going to be confident which is great. I don't think the manager would pick any player that he doesn't believe can start a game. That's a manager's choice.
"The good thing is that you've got a few of them lining up, putting in performances. Ox (Alex Oxlade-Chamberlain) did it, Raheem Sterling has done it with his performances for Liverpool and glimpses of Barkley. That's a great problem for the manager.
"It's great for the team to have players in those attacking areas who can make things happen. I'm sure he will have learnt a lot from the game in terms of positions to pick up, times to turn, times not to.
"But when you've got players like that in a team, players who can run away from people and make things happen, then you're very happy. He's a young boy and good luck to him. It's good to see him come in and do so well."