World Cup: England manager Roy Hodgson looks to ease pressure on Ross Barkley
Roy Hodgson has played down suggestions Ross Barkley must perform well if England are to enjoy a successful World Cup.
Last Updated: 06/06/14 8:38am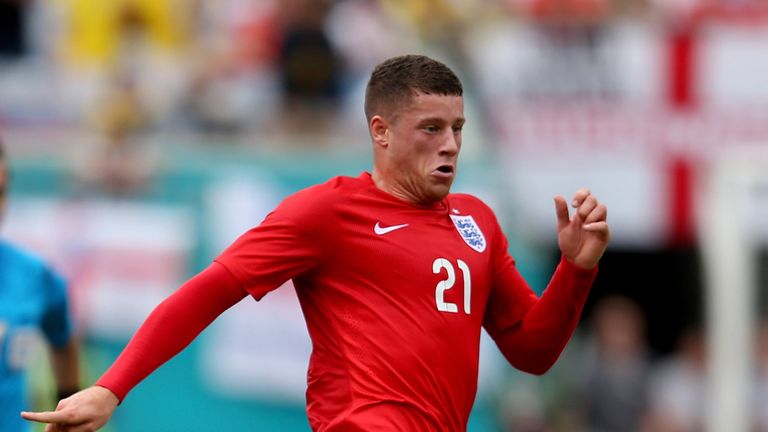 The Everton midfielder impressed during the 2-2 draw with Ecuador on Wednesday but Hodgson was lukewarm in his praise of the 20-year-old and criticised him for giving the ball away too often.
But speaking at a fans' forum, the England boss insisted he was merely trying to protect the player from any subsequent backlash that may result from a poor performance.
"I was anxious to play down the expectations," Hodgson said.
"I've seen too many young players lifted to the stars, made the new (Kevin) Keegan, the new (Glenn) Hoddle, the new (Paul) Gascoigne, the new (John) Terry, the new Rio Ferdinand.
"Every time someone has half a good game, they're the new star. He is in our squad and he is there to play.
"We believe in him and we think he has a lot of qualities but people shouldn't be suggesting our World Cup should be hinging on his performance.
"It's too much responsibility to place on his shoulders and it could set him back."
Everton manager Roberto Martinez was impressed with the 20-year-old's performance in Miami, but echoed Hodgson's words about not asking for too much from the youngster.
"The backheel to Rooney, the pass for Lambert's goal and the shot Ross had give you an indication of the player that he will become," Martinez told the Daily Mail.
"We have to allow him room to develop and let's not put too much pressure on him.
"At the moment he is perfectly suited to playing in the No 10 role, but in time he will develop into the complete midfielder. Nothing fazes him, but the World Cup is a massive event and Ross needs protection.
"We just need to calm things down a bit and don't expect too much from him. I've seen what Roy had to say after the game, but I think he was just trying to protect him a little bit."
Barkley may get the opportunity to impress again when England face Honduras on Saturday before their World Cup campaign gets underway against Italy in Manaus on 14 June.