World Cup: Rickie Lambert desperate to succeed for England in Brazil
Rickie Lambert understands his role for England this summer and is determined to make an impact at the World Cup.
Last Updated: 07/06/14 8:36pm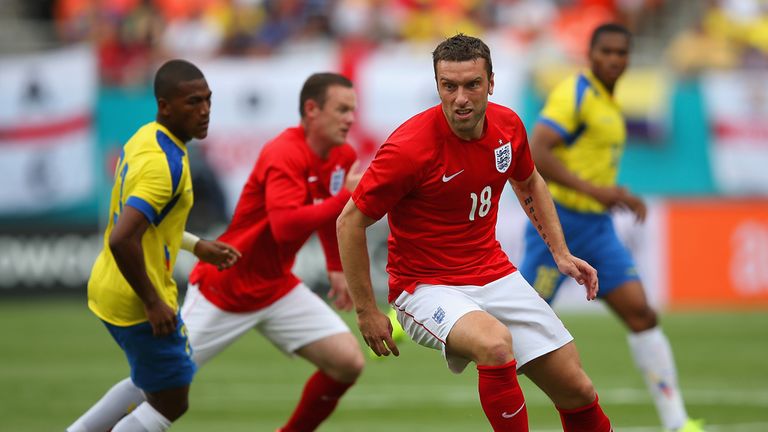 Lambert is in great spirits after being called up to Roy Hodgson's squad and also making a move from Southampton to boyhood club Liverpool.
He was given a chance to impress in the friendly international against Ecuador in midweek and scored with a great finish in a 2-2 draw.
The 32-year-old is now looking to push on and he feels England can be successful at the World Cup, with a few more days to prepare for their Group D opener against Italy.
He said: "Liverpool is a dream move for me and I'm on a high from it. But any emotions like this, I try to get the best from them and take them on to the pitch. That's what I've done this time hopefully.
"I scored against Ecuador but there are still aspects I want to improve and do better at.
"But it's getting to know your players as well. Against Ecuador was the first time I've played with some of the lads but we've done OK.
"It's not about whether I start against Italy. It's about the plan that Roy's got.
"We're all behind it and, whether we're starting or coming on as sub, we're all behind the manager."
Lambert was thrilled to make a contribution against Ecuador, especially after missing the initial chance to score when Rooney netted England's opening goal.
He explained: "I'm desperate to do well. I'm a striker and any chance I get I want to score. I didn't quite score the first one against Ecuador. I don't know what happened but thank God Wayne was there to put it in.
"But I took the second chance and I was made up.
"No matter how I end up playing, I'm just trying to give my best.
"And if it's from the bench and I come on and get my chance, then I know I've got to do well.
"Obviously, every minute counts from now and through the World Cup and I understand my role."