Sky Sports' Geraint Hughes reports from Belo Horizonte, host city of England's final group game in Brazil
Sky Sports' Geraint Hughes gives the lowdown on Belo Horizonte, host city for England's game against Costa Rica.
Last Updated: 07/06/14 12:26pm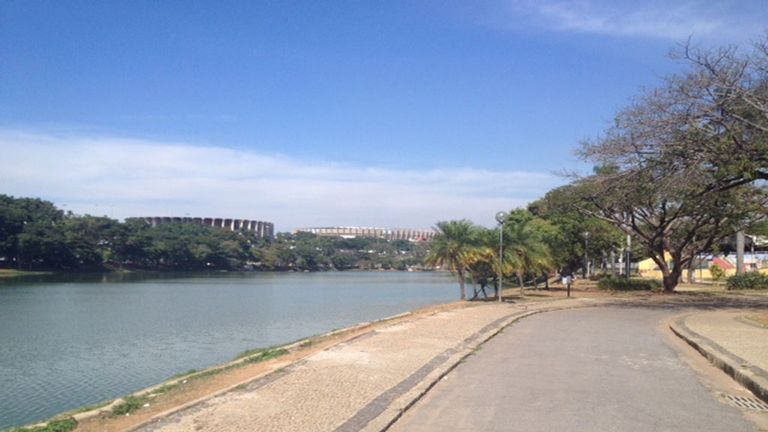 Belo Horizonte is going to become a familiar name, not just in the next few weeks, but next few years. It's where Team GB's holding camp for their athletes will be prior to the Rio 2016 Olympics.
For now though, it's where England play Costa Rica on June 24. The final group match - who knows how important or irrelevant the game will be!
Belo Horizonte could not contrast more with several of the World Cup host cities I've visited over the past 10 days.
Whereas for example Sao Paulo's stadium resembled a building site with hundreds of workers on site when we checked on it last Monday, Belo Horizonte is ready.
It could host a game right now, in fact it was ready in 2012. It's the envy of many cities and for the authorities here they are grateful they got their act together quickly. They're also slightly embarrassed by the image many other host cities are portraying of their country.
So all good for the England supporters who will come here on June 24. Well yes and no. Yes because the stadium is all ready and the city and it's people are very welcoming, however by a quirk of fate three days before England play Costa Rica, Argentina face Iran here.
Ah. Now we know the two countries aren't the greatest of pals, but it's not the England fans who are the worry - it's the Argentinians.
British police, when they travelled to Brazil to be briefed by their counterparts here were slightly surprised when they were told of intelligence pointing to groups of known Argentinian hooligans travelling to Brazil.
The proximity , in geographical terms, of Argentina to Brazil means that 20,000 fans are expected in Belo Horizonte for their match against Iran on June 21.
Deputy Chief Constable Andy Holt, the head of ACPO (Association of Chief Police Officers) admitted he was surprised when Brazilian police told him of the threat of Argentinian football groups who's behaviour domestically has been a worry.
At the moment there is no specific intelligence that Argentinian groups will target England fans more than any other country, but as DCC Holt told me he just was not prepared to take a risk and he's been assured by Brazilian police that the image now of England fans is not the one of 30 years ago and English supporters will be policed accordingly.
DCC Holt confirmed his officers on the ground in Brazil will make sure their concerns are relayed to Brazilian police should anything untoward occur.
For the City's part, General Secretary Camillo Frago told me he doesn't expect problems and if there are, they are prepared with a well trained police force.
For Belo Horizonte they can't believe their luck. Argentina play a game here and are basing themselves here. Chile and Uruguay also have camps in or near the city and then last December at the World Cup draw, England were drawn to play Costa Rica in Belo Horizonte.
From what I've been told the city has rich history and association with the UK which its citizens are proud of. Mining and railway building expertise just two examples.
So Belo Horizonte feels it has hit the jackpot, it's amazing what luck comes your way when you build your stadium on time and get everything ready early. The City isn't at all smug though, just happy. Makes a change.