World Cup: England squad arrives in Brazil after Miami friendlies with Ecuador and Honduras
The England World Cup squad have arrived in Brazil after flying to South America from Florida.
Last Updated: 08/06/14 7:56pm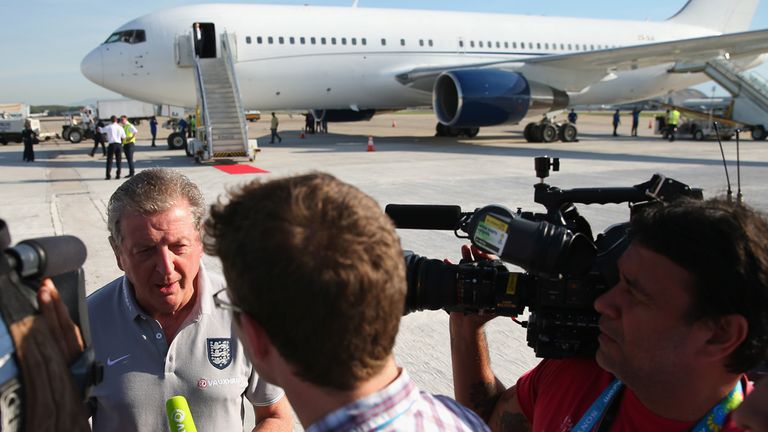 Coach Gary Neville led the party down the steps at Rio de Janeiro airport with Gary Cahill the first player to depart the plane after the eight-and-a-half-hour flight from Fort Lauderdale.
The squad then travelled by coach for around an hour to their accommodation in Rio - the Royal Tulip Hotel where security was tight - and they will spend the remainder of Sunday settling into their base for the tournament.
As he got off the plane, boss Roy Hodgson told Sky Sports News: "Team spirit is very, very good. It's been good since the moment we met up in Portugal.
"We have always had our focus, of course, on the day we would arrive in Brazil and perhaps even more focus on Manaus where we are playing on Saturday.
"But now we have got a full week to prepare here, and that will be very useful to us because we are getting more and more acclimatised to conditions.
"We have got one further week to make sure when we kick off in Manaus we will be 100 per cent ready."
Hodgson will conduct an open training session on Monday morning followed by a closed work-out on Tuesday morning.
The squad will train again on Wednesday morning before flying to Manaus on Thursday ahead of their Group D opener against Italy on Saturday.
There will be a part-open training session in Manaus on Thursday afternoon and a pre-match news conference on Friday afternoon which will be followed by another part-open training session.
England will then kick-off their World Cup campaign against Italy at the Arena Amazonia late on Saturday evening.
And goalkeeper Joe Hart believes the England squad are in good shape following their pre-World Cup training camp in Miami.
"We had a good training camp and we're ready now," said the Manchester City star. "We got what we could out of it. We were always going to do that.
"We are working hard, we have worked hard every day on and off the field and we've given everything to be prepared.
"We feel good. We feel like we're doing the right things.
"It's great having Stevie [Gerrard] and Jordan [Henderson] and the various players screening us which is good, but I thought we looked dangerous going forward as well, which is a big positive.
"We feel like we've had a great three weeks together. We really feel like a team - a good strong English team going into a tournament with every chance to express ourselves and do well."
Wayne Rooney, meanwhile, says he is happy to play wherever manager Roy Hodgson wants him to.
Rooney's best position in the side has been the subject of intense debate in recent weeks, with his versatility seeing him deployed on the left-hand side of the attack for the bulk of England's warm-up matches.
Former Manchester United team-mate Paul Scholes even questioned whether Rooney - a mainstay of the England side since making his debut as a 17-year-old in 2003 - should even be regarded as an automatic selection.
The 28-year-old has said in the past he favours a more central role but with Daniel Sturridge and Rickie Lambert preferred to lead the attack in recent friendly matches, Rooney has accepted he may need to adapt.
"I have played there quite a lot in my career," said Rooney.
"I have played left and right, more so on the left. The manager asked me to play there and I have no problem doing it.
"I am not going to stop playing for England because I was moved out on to the left wing, am I? I am happy to play for England where I am needed."