World Cup 2014: FIFA allay pitch fears ahead of England v Italy in Manaus
Last Updated: 13/06/14 10:47pm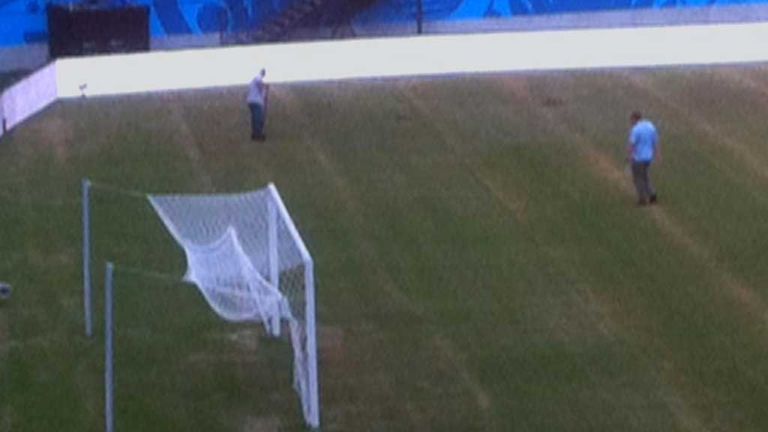 FIFA insists the pitch in Manaus for England's opening Group D game against Italy will be fine.
England have sent a member of their backroom team to inspect the surface at the Arena Amazonia after the stadium's head groundsman, Carlos Botella, admitted on Thursday the pitch was in "bad shape".
The playing area appeared noticeably dry and rutted but, speaking at a media briefing on Friday, World Cup 2014 organiser Saint-Clair Milesi said it was simply an aesthetic problem.
"I understand the concern not just in Manaus but at all the pitches in the country," he said.
"But we have focused a lot of time and money on the cities to prepare and get the best conditions for the teams.
"In Manaus it was more of an aesthetic problem than a performance problem but that has been mitigated as well.
"We have a team of specialists there giving lots of attention and we are confident it will be in good condition for the first match."
Concerns have also been raised about potential protests at many stadiums across the country regarding the political and social problems in Brazil.
Much of the Brazilian public feel the large quantity of money spent on staging the tournament should have been spent on improving their economy and infrastructure.
But FIFA spokesperson Delia Fischer moved to calm people's fears and insisted the majority of the country is enjoying the football.
"We are always open for dialogue. Over the last year we have met with lots of groups and the government, but some of the groups would not speak to us," she said.
"It is important to see the whole context. I think we saw yesterday, as Brazil won their game, that the majority of people are enjoying the World Cup."