World Cup: Roy Hodgson says England to send fans to bed happy after Italy game
Last Updated: 19/06/14 11:00am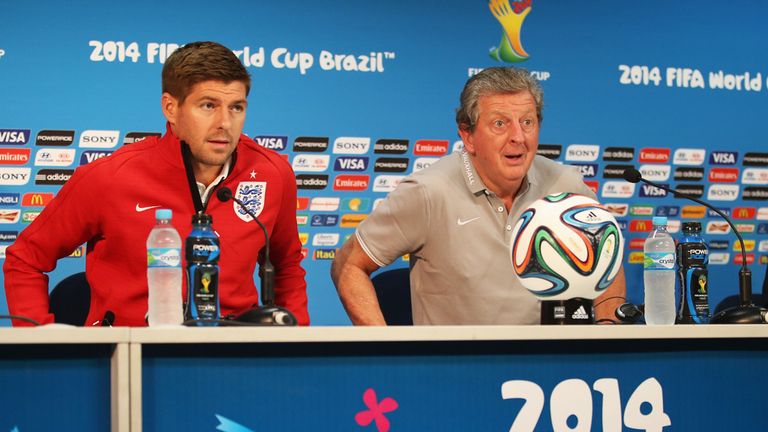 Manager Roy Hodgson says England fans have a team they can believe in, ahead of tonight's eagerly-awaited World Cup opener against Italy in Manaus.
The English begin their campaign in the Arena Amazonia against the team who knocked them out of Euro 2012, and Hodgson is hopeful of a good start.
"We want to give people back home something to believe in," said Hodgson.  "We want to give them something to cheer about.
"Nothing would please us more than to give a performance on Saturday night that has everyone at home thinking 'This is terrific. What a good England team, didn't they play well?'
PICK YOUR TEAM
Who do you think should start for England v Italy? Click HERE to choose your starting XI.
"That is our only goal and we can only hope they give us the support we need, and that they go to bed on Saturday night as happy as we will be, if we get a good result from the game.
"I can give assurances that, if it's a question of wanting, desiring and giving our all to succeed, then we will.
"Per ardua ad astra, through adversity to the stars. That's the Royal Air Force motto isn't it?"
Hodgson is not planning to use the likely high temperatures as an excuse if things go badly, adding: "We're not concerned about the heat.
"We are physically fit, mentally fit and tactically prepared."
England captain Steven Gerrard is also hopeful that a big performance is on the way.
"I believe that this squad is in a very good place and it is very talented. I will be proud leading this group of players out.
"I will be even prouder if we come home with our heads held high, after we have gone out on the pitch and given everything we have got for the public back home."
Hodgson has revealed Danny Welbeck will be fit to face Italy in the World Cup opener.
The Manchester United striker had been struggling with a thigh injury and was forced to sit out training on Tuesday and Wednesday. 
"I'm very fortunate that even after four weeks of preparation, the only player who isn't available for selection is Alex Oxlade-Chamberlain," added Hodgson. "That we knew, so there can be no complaints on that score." 
Hodgson insists he will have no hesitation in playing his younger players against the Italians, having openly admitted being impressed in training by Daniel Sturridge, Raheem Sterling and Ross Barkley.
"I'm not afraid of giving youth a chance," he said. "We've only to think back to 1958 and Pele bursting on to the scene as a 17-year-old. He went on to dominate football and become one of the most, if not the most, famous footballers of all time.