World Cup: Alex Oxlade-Chamberlain hoping to be available against Uruguay
Last Updated: 17/06/14 12:00pm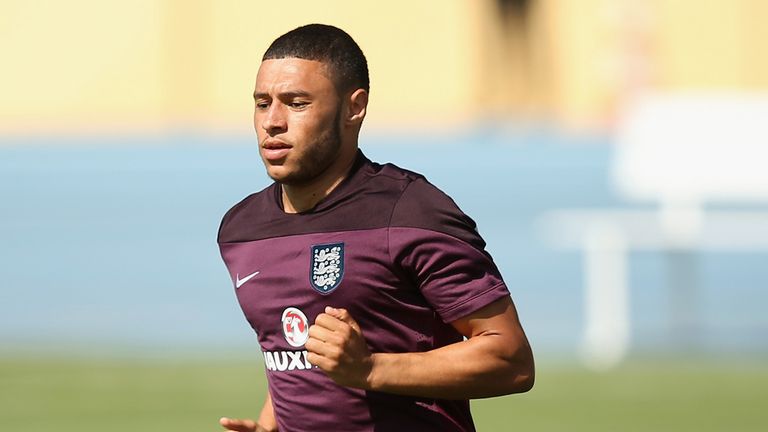 Alex Oxlade-Chamberlain is hoping he will be available for England's second group match at the World Cup with Uruguay on Thursday.
The Arsenal midfielder admitted he thought his World Cup dream had been shattered when he was injured during the 2-2 draw with Ecuador in their warm-up match in Miami.
Carlos Gruezo's tackle sprained Oxlade-Chamberlain's knee and he admits he thought he would be flying home.
"I panicked a bit and feared the worst," said the 20-year-old, who scored against Brazil in the Maracana last June.
"I'd just come back off a long-term knee injury, and sometimes something that seems quite innocuous can set you back five months.
"And we were so close to the World Cup. I thought my chance might be over."
As he lay inside an MRI scanner, Oxlade-Chamberlain admits he was wracked with tension.
"I actually sat in the scanner with the fingers crossed on both my hands for the whole 25 minutes," he said.
"At the end I couldn't feel my fingers. That's literally how I sat. After I came out our doctor saw the scan results and was pretty happy with them, considering what they had feared.
"They had thought it could have been a lot worse than it was. I was obviously a bit worried."
The scans revealed he had sprained the medial ligament in his right knee, but Roy Hodgson decided to retain Oxlade-Chamberlain and he has responded well to his rehabilitation.
On Friday, ahead of the opener with Italy, Oxlade-Chamberlain stepped up his rehab, testing his knee in diagonal runs on the Arena Amazonia pitch, and he is hopeful he could be available for the Uruguay match in Sao Paulo.
"We are not sure about time scales," he said. "We are hopeful that (returning for Uruguay) would be realistic but there is nothing set in stone and I can't say whether I will definitely be back or not.
"We just know we are very positive about it. We are going to keep pushing and keep working towards it.
"Considering when the injury was, I'm really happy - as are the medical team - with how it's progressed."
Oxlade-Chamberlain intends to have a chat with England psychiatrist Dr Steve Peters to see if he can help him with his recovery.
He said: "Straight after I sat in the dressing room and I was thinking: 'You can't get yourself in a pickle and get yourself down because the situation is not going to change'.
"You can either stay positive and look forward and look how you are going to get over it or you do the opposite and get yourself down and that is not going to get you anywhere."
If he is available, the former Southampton youngster is confident he can make an immediate impact in what is a crunch match after both teams lost their opening Group D matches.
"I think I will be able to (do that)," he said. "Before the Ecuador game I hadn't played since the FA Cup semi-final (on April 12).
"With the way we train, it's so sharp it's like a match anyway. If you're getting through training all right you can take it into a game.
"When I came back from the five-month injury it does take a bit longer to get into the swing of it, but with short-termers it's easier to hit the ground running."