England: Former manager Sven-Goran Eriksson hails the retiring Steven Gerrard
Last Updated: 22/07/14 11:21am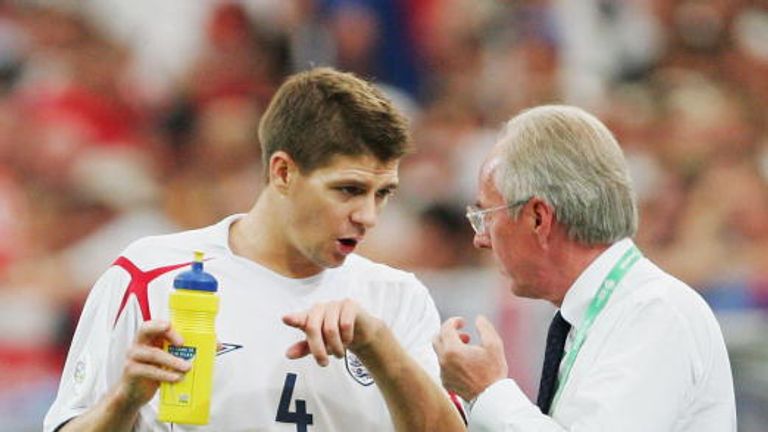 Former England manager Sven-Goran Eriksson believes Steven Gerrard's international retirement is a huge loss.
Gerrard, 34, has retired as England captain and the country's third-most capped player with 114 appearances over a 14-year international career.
The Liverpool midfielder was one of the first names on the teamsheet during Eriksson's reign as boss between 2001 and 2006 and played in two major tournaments under the Swede.
And Erkisson told Sky Sports News: "It's a pity because he is and was a great, great player for Liverpool and England.
"I feel sorry for England and for Steven. I think he should have carried on because as long as you can qualify to play for England I think you should do it.
"Maybe his body is a little bit tired. Maybe he can't do twice a week all year round. I don't know. He is probably saying he can't do it anymore.
"I think everyone has to say a big, big thank you to Steven for all he did for his country.  He has a great attitude, is a great professional and is a fantastic footballer.
"He always delivered and you could always be sure he gives everything he has to give."
Eriksson was one of the most successful England managers of all time despite his side falling at the quarter-final stage at both the 2002 and 2006 World Cups, as well as the 2004 European Championship.
The Swede handed Manchester United's Wayne Rooney his England debut at just 17 years old in February 2003 and believes the striker is a good shout to be the next England captain.
"It is a question for Roy really. I have been away from that job a long time," Eriksson said.
"But Wayne Rooney is a good choice, and they should build the team around him. I think Rooney is still really important for England."