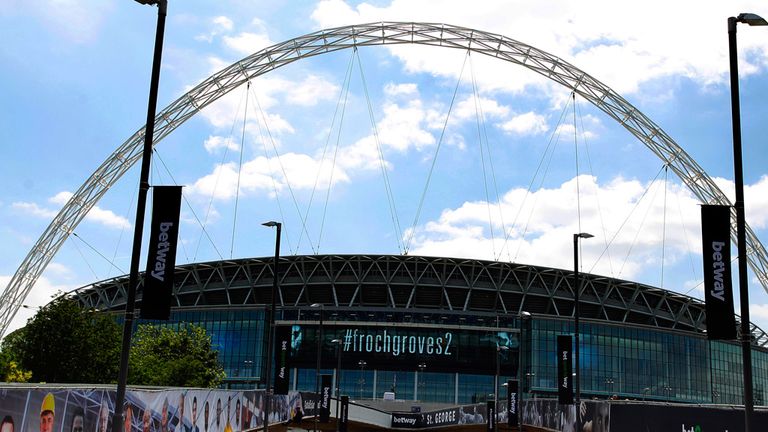 The Football Association is growing increasingly confident about Wembley's chances of hosting the final of the European Championships in 2020, and will not rule out a bid to host the tournament in 2028.
England has not hosted a major international tournament since Euro 96, and the FA lost out to Russia with a bid to host the 2018 World Cup.
Only Munich currently stands in the way of Wembley hosting the final and semi-finals of Euro 2020, which will be staged across multiple countries.
There is increasing speculation Germany will pull Munich out of the running to host the final because they do not want to damage the country's chances of winning the right to host Euro 2024.
We're really confident with our bid. We know that they (Germany) are thinking about 2024, but nothing has been confirmed.
Alex Horne
FA general secretary Alex Horne admitted he is increasingly confident about securing the right to host the 2020 final.
"We're really confident with our bid," said Horne, who has also revealed England will play friendlies against Germany, France, Spain and Italy in the two years leading up to Euro 2016. "We know what the Germans have been saying.
"We know that they're thinking about 2024, but nothing has been confirmed."
Horne also revealed the FA are considering mounting a bid to host a future European Championships, adding: "I wouldn't rule out looking at Euro 2028."
Euro 2020 will be held in 13 different countries to mark the 60th anniversary of the tournament and only Wembley and Munich's Allianz Arena have put in bids to host the climax of the competition - the semi-finals and final - ahead of the vote on 19 September.
Horne added: "We are really happy with our bid. Together with London and the UK government we've put in a really strong bid to host the semi-finals and finals.
"UEFA know us really well - they gave us two Champions League finals in quick succession in 2011 and 2013, so we are really confident we will get a result on September 19. We are in a great position."
Glasgow, Cardiff and Dublin are all bidding for group matches at Euro 2020 and Horne believes at least two of those would be successful.
"Three of the other local associations, Wales Scotland and the Republic of Ireland have got live bids in for group stages," he added.
"I think it's too early to say how it will shake out. It's still a competitive process there's 19 associations bidding for those group stages with only 12 venues to be selected.
It looks geographically that it might be two of the three of those. I think that's a positive rather than a negative but we'll have to see where we get to on September 19."