Roy Hodgson insists England's future is bright as FA prepares for record low turnout against Norway
Last Updated: 29/08/14 7:08am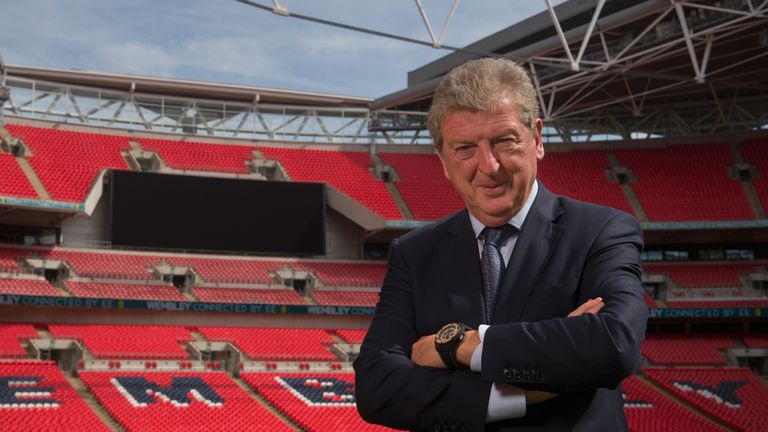 Roy Hodgson is sure England are not heading for "mediocrity" as they prepare to enter a new era at a half-full Wembley.
Between 35-40,000 fans are expected to attend Wednesday's friendly against Norway - the lowest attendance for an England game since the stadium was redeveloped.
Frank Lampard and Steven Gerrard both retired in the wake of a disappointing World Cup campaign, and England are down to 20th in the FIFA rankings ahead of qualifying for the 2016 European Championships.
But Hodgson struck a positive note after naming Wayne Rooney as captain of a squad featuring four uncapped players in Danny Rose, Calum Chambers, Fabian Delph and Jack Colback.
He said: "I'm being accused of leading England to being a second-rate country but I don't think we're heading for mediocrity.
"I think there's great potential, and there's hope. I can't wave the magic wand and bring back a leader in defence, with one or two in midfield and one or two up front.
"I can't replicate it because it doesn't exist, but I think in 2016 we will see a good England team."
Football Association general secretary Alex Horne has admitted there is "work to do to rebuild some trust with supporters" and called the poor ticket sales "disappointing".
The FA will hope for a bigger turnout when a series of prestige friendlies - announced on Thursday - are played over the next two years.
A deal has been struck for England to play home and away fixtures against France, Spain, Italy and Germany between now and the 2016 finals, although no dates have been set.
Horne said: "We will be playing the bigger European countries - it makes more sense to prepare for a European tournament by playing European opposition so we have put less of an emphasis on non-Europeans over the next two years."