Rosicky ready to match Scots
Czech Republic captain Tomas Rosicky is expecting Scotland to be more attacking and aggressive at Hampden Park.
Last Updated: 02/09/11 8:52pm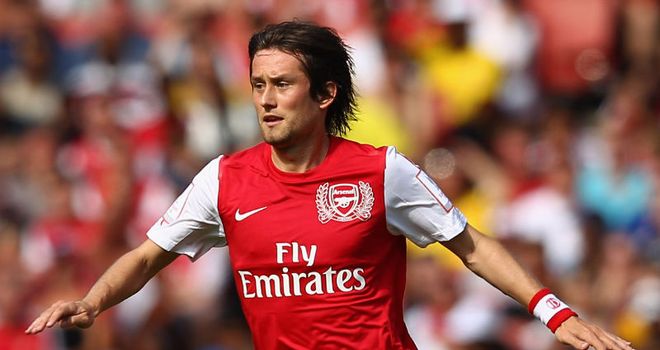 Czech Republic captain Tomas Rosicky is expecting Scotland to be more attacking and aggressive when the two teams meet at Hampden Park.
Scotland host the Czechs in a Euro 2012 qualifier on Saturday afternoon having deployed a 4-6-0 formation for a 1-0 defeat in Prague last October.
Rosicky is under no illusions as to what to expect, but is confident the Czechs can emerge victorious again if they match Scotland's determination.
"I expect a more attacking approach," said the Arsenal midfielder. "We know it will be an aggressive game. It will be a good pace because the stakes are high.
"Like the game last year, if we match the aggression we will be successful.
"That's the main point - we expect the Scottish team to be aggressive and close us down."
Rosicky chose a familiar foe when asked to name Scotland's most impressive player - his Arsenal team suffered defeat when Charlie Adam played in Liverpool's 2-0 win at Emirates Stadium last month.
Adam awareness
"At this point I think the most dangerous and improved player is Charlie Adam," Rosicky said.
"He is good on the ball and has good vision. Obviously he is the one who spreads the ball but other players can be dangerous as well. That won't be our main focus, just to stop him."
Rosicky admitted it was fair to say he was relishing a different platform after Arsenal's poor start to the season, which continued with an 8-2 defeat against Manchester United on Sunday,
But Rosicky, who has scored 20 goals in 81 games for his country, added: "I don't feel I have something to prove personally.
"Of course I'm the leader of the team, I know I have the biggest responsibility and I'm not hiding away from it."
And the 30-year-old dismissed suggestions from a Czech reporter that the sell-out Hampden atmosphere could prove intimidating.
Rosicky, who played in a 1-0 friendly defeat at Hampden in March last year, said: "When we played in Prague, it was flooded with Scotland supporters so it will be familiar, so no worries there."