Rhodes starstruck
Jordan Rhodes has admitted he was awe-struck training with the Scottish senior side for the first time.
By William Esler
Last Updated: 08/11/11 6:22pm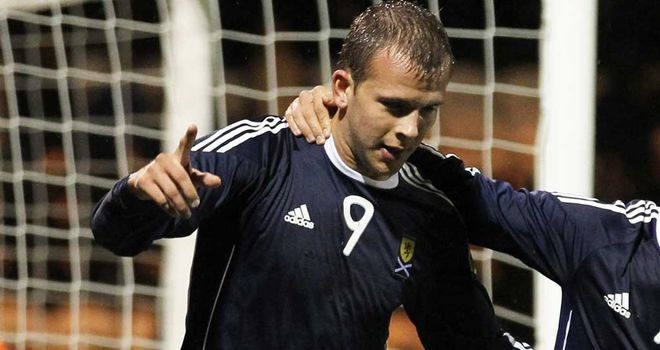 Jordan Rhodes has admitted he was awestruck training with the Scottish senior side for the first time.
The 21-year-old Huddersfield striker could make his international debut this week following a string of withdrawals from the squad.
He caught the eye of manager Craig Levein after hitting 13 goals in five games, including five in Scotland's last two Under 21 qualifiers.
The goalscoring spree has given the striker a chance to rub shoulders with the likes of captain Darren Fletcher, and Rhodes could not contain his excitement after his first training session.
He does not intend to waste the week being overawed in their company as he vowed to learn as much as he could and savour every moment of it.
Rhodes said: "It's something that has not really sunk in just yet. Walking around the corridors and sitting at meals alongside Darren Fletcher and so many good players, there is still a big kid in me that's in awe.
Jaw-dropping
"My jaw is dropping at the sight of being around a few of these good players. I had never thought I would be involved in international football until these last six months, even being picked for the Under 21s has all happened so quickly.
"I'm not even thinking about the game or coming on. It's just a matter of getting through each training session, seeing what each player is like and just taking in the moment.
"Some of our players have been around for so long and played at the top of their game, week in and week out.
"It's good for someone young like myself to see what they're doing day in and day out and how they go about their business to prepare for the game.
"There are fantastic Premiership and SPL players in there and there's me from League One, which is no disrespect to League One.
"But they are fantastic footballers and world famous so just to be sharing the same training field is a dream come true.
Stronger
"If I can learn a few bits every day, moments at a time, hopefully I will be better and a stronger person going back to Huddersfield and preparing for what is a big season with them."
The Oldham-born forward, who qualifies for Scotland through the five-year schooling rule, feels that there is a club atmosphere within the squad.
And this, he says, has helped him to settle in and not feel like an outsider.
"I'm quite quiet as a person, both on and off the field. They are fantastic footballers but they could be even nicer people, if that makes sense.
"Just to talk to them, it might not even be about football, it might be whereabouts you're living or your background... what a nice bunch of boys.
"I wouldn't have a bad word to say about any of them, they have made me feel really at home and one of the squad.
"The coaching staff have all put their arm round me and spoken to me. It's great that they have taken the time to talk to me and make me feel at home. I'll cherish these memories for years to come."