Pressure points
Alex McLeish says Scotland's World Cup qualifier against Macedonia is a 'must-win' match.
Last Updated: 08/09/12 6:10pm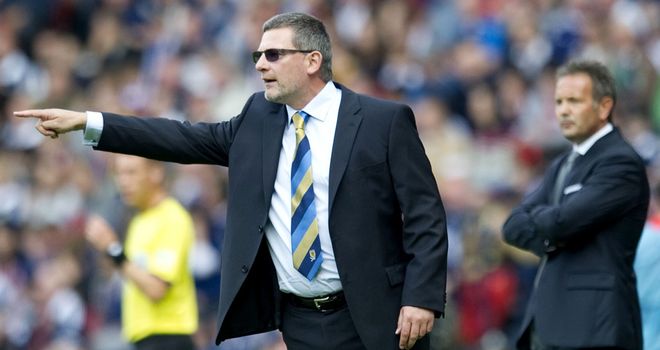 Scotland cannot afford to drop points against Macedonia on Tuesday after being held 0-0 by Serbia in their World Cup qualifying opener, says Alex McLeish.
Craig Levein's men had to settle for a share of the spoils at Hampden as the visitors' stubborn defence held firm. Read our match report here.
The result puts Scotland third in the table behind Belgium and Croatia after the opening round of fixtures and places greater pressure for the team to deliver on Tuesday, when they take on Macedonia.
"We did have chances," former Scotland boss Alex McLeish told Sky Sports. "There was a lot of possession and pressure on the Serbs' box with free-kicks and corners.
"We didn't do well enough with our delivery; with the quality we have on show out there, our players are capable of far better than that in those kinds of situations.
Pressure
"We had a couple of half chances - Kenny mistimed a header when it looked as though he had a clear header at goal and little things like that just didn't quite give us the edge that we were looking for.
"The Serbs are no mugs but they are a country that's in transition. This is maybe one that got away today so the pressure intensifies on Tuesday night. It's looking like a must-win.
"I don't think it's a time to be negative - I think we've got to back the manager in this situation. You're only as good as the guys you pick and I thought the team looked good on paper. It looked quite exciting, I felt.
"If these guys don't quite click to their top level, then it's difficult; it's not the manager's fault."
McLeish added: "I thought Scotland were ok in the first-half. When we get the ball forward quickly then we can look more dangerous and I think they have had to be patient at times.
"We know the Serbians will always technically be good but there is still a lot of naivety still in the squad as we've seen with some of the challenges from Matija Nastasic."
Stronger
Fellow Sky Sports pundit Neil McCann, capped 26 times by Scotland, saw the hosts' failure to take all three points as a missed opportunity.
"Regardless of what Craig Levein says about it being a long campaign, I do think that this game was there for us today," he said.
"This young Serbian side has been struggling in recent games. I think they'll get better. When we go to Serbia to face them I think they'll stronger, I think they'll be more at us and then you're trying to get three points away from home.
"It's so important that when you get an opportunity to start off a campaign at home with two games that you try and take six points.
"We've taken one today and I really do think that Macedonia really is a three-points must take."
Watch Scotland take on Macedonia this Tuesday at 7.30pm on Sky Sports 1 HD.