Sunderland boss Martin O'Neill concerned by Steven Fletcher's Scotland return
Sunderland boss Martin O'Neill is happy Steven Fletcher is back in the Scotland squad but is anxious he avoids injury.
Last Updated: 04/10/12 5:12pm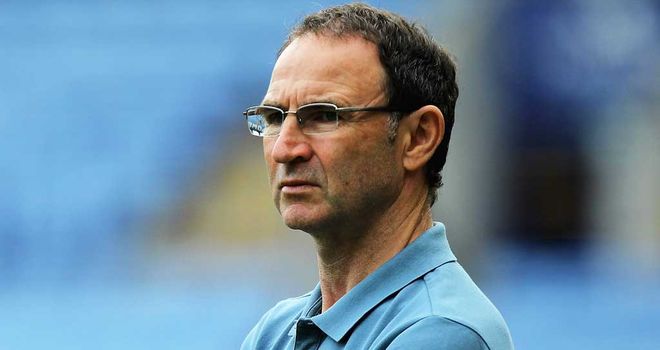 Fletcher agreed to return to the Scotland squad for the first time in over 18 months for the World Cup qualifiers against Wales and Belgium this month after ending his dispute with coach Craig Levein.
O'Neill had little part to play in the decision but claims to be delighted for his £12million striker that he is set to play for his country once again.
The Black Cats boss said: "He hasn't spoken much about it to me. I think he's pleased that whatever impasse was there has been breached and that he is back in the fold again.
"From my own viewpoint, I am obviously delighted for him that he is back in.
"Of course, it's another one to add to the concerns about him coming back in a fortnight's time, but you just take that into consideration.
"I think he is pleased to be back and from Scotland's viewpoint, it's good news for them.
"For him, it's good he's back there. I think he will improve the team. He is playing splendidly for us and I think he will be a boost for Scotland."
Worry
O'Neill will have 12 of his squad away on international duty next week and he echoed the recent sentiments of Newcastle boss Alan Pardew that injuries are a worry for Premier League managers.
He added: "It's obviously a big concern for myself, a big concern for other managers in my position in the Premier League who have got players away.
"As Alan Pardew said a couple of weeks ago, you are never sure what sort of training they are doing and how they are reacting to it.
"There's a pattern at club level, then you go into international games and international managers have a different way, of course - everyone does have - and it can upset their rhythm a little bit.
"But those are things you have just got to get on with. Thankfully from a club viewpoint, this is the last international break - big break, anyway - for quite some considerable time, so I will feel the season has really started then, I suppose, just after that."
O'Neill's concern is perhaps understandable given that Adam Johnson returned from the last England get-together with a thigh injury that has restricted his activity since - although the winger is again included in Roy Hodgson's squad.
"It's interesting," said O'Neill. "He did the injury on international duty and so we have missed his services for most of that time since the last international game. But that's the way it goes."