Craig Levein dismisses speculation about Scotland job ahead of Belgium showdown
Craig Levein dismissed speculation about his future as Scotland boss ahead of tonight's World Cup qualifier in Belgium.
Last Updated: 16/10/12 7:02am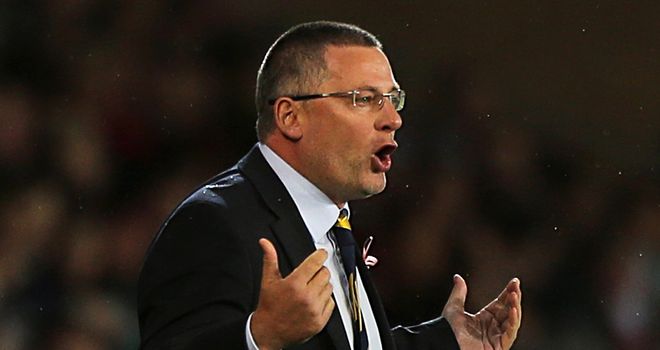 The pressure on Levein intensified after Friday night's 2-1 defeat to Wales in Cardiff, with speculation that Tuesday's match in Brussels could be his last if the Scots do not win.
Asked if he may not be able to continue in his role if Scotland fail to deliver the goods against Belgium, Levein said: "I keep getting asked questions about 'what if this happens?' or 'what if that happens?'.
"I'm not prepared at all to enter into that. My job is to prepare the team for the game, they will be doing their absolute best as always and I've got every confidence in the players."
The Belgians will start as favourites - they beat Sebria 3-0 away from home on Friday - and, asked if the match is the most important of his career Levein said: "It seems that every one is the biggest one. It's a tough ask but I've got huge confidence in the players.
"They showed in long spells on Friday that they are capable. We harbour a sense of injustice and one thing is for certain, we will put on a good performance, I'm sure of that.
"I'm concentrating completely on the match. Having my focus on anything else is counter-productive."
The manager is still furious about the performance of the assistant referee who disallowed what appeared to be a perfectly good Steven Fletcher goal against the Welsh, when Scotland were 1-0 up.
A Charlie Adam cross was deemed to have swung out of play before reaching Fletcher, but television replay proved otherwise.
"There is still a tinge of disappointment with the way the game turned out on Friday as you can imagine," he said.
"It's difficult to accept what happened but the players have been great. We've had a couple of good training sessions and a few team meetings.
"We are very positive going into this game but there is still a touch of disappointment and more than a touch of anger about what happened on Friday.
"We feel we were badly let down by the officials and we have to use that anger to help us on Tuesday night."