No Hampden spark
Neil McCann, Andy Walker and Charlie Nicholas discuss Craig Levein's departure as Scotland boss.
Last Updated: 06/11/12 9:03am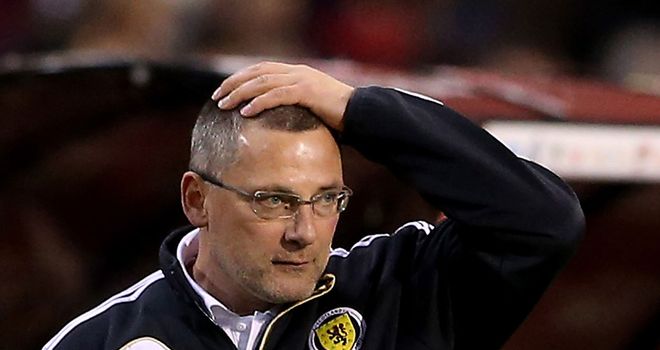 Craig Levein's tenure as Scotland manager is over.
The 48-year-old, who won just three of his 12 competitive fixtures in charge, was relieved of his duties by the SFA on Monday afternoon with Scotland lying bottom of their World Cup qualifying group and with little hope of making a major championship for the first time since 1998.
Click here for more on this story
Shortly after the news broke, Sky Sports News asked former Scotland internationals Neil McCann, Andy Walker and Charlie Nicholas whether Levein should have been axed, how they will remember his tenure and who should now fill the Hampden Park hot-seat...
Neil McCann on Craig Levein's sacking
"It was probably the decision that everyone has been waiting for. There were question marks over tactics and the way the players were deployed and that coupled with the results that have gone against us have made his job a very difficult one to stay in - and the weight of opinion, especially from the Scotland fans, was becoming a huge pressure.
"This was a difficult decision for everyone at the SFA as Craig has done a massive amount of work - and probably thought he could turn things around - but the with the competitive results he had it was a decision they felt they had to take. We made progress under Alex McLeish and Walter Smith and were getting results and climbing the rankings, but people weren't seeing progress under Craig."
Andy Walker on the length of time the SFA took to axe Levein
"I can't believe it has taken the SFA this long to make a decision and they have treated Craig and his backroom team shabbily. It has been a mess but it is so typical of the SFA. When was the last time we saw a demonstration of strong leadership? The fans are only concerned about results but the SFA have a more encompassing role and I think they have let down a lot of people in a lot ways for a lot of months. It has been a shambles and the SFA have a lot to answer for."
McCann on Levein's accomplishments and failings
"Craig created a good squad feeling, a club feel, and the players were vocal in their backing of the manager, but his remit was to take Scotland into a major championship and in two campaigns he hasn't done that. He may feel he was taking on a restructuring job and building from the grass roots but maybe he could have focussed on results."
Walker and Charlie Nicholas on Levein's stint as Scotland chief
Walker: "It was defined for me by the way we went to the Czech Republic (in the Euro 2012 qualifiers) and played with no strikers. Some of the top teams in the world do that but to play that way you need a hell of a lot of preparation and that didn't go down to well with our supporters. We also haven't had any notable victories under Craig.
"We have only beaten Lichtenstein and Lithuania when in recent years (under different managers) we got results against Italy, France and Ukraine and almost made a major finals, while home World Cup Qualifying draws with Macedonia and Serbia put paid to our chances and Craig's job. I also think the stand-off with Steven Fletcher could have been handled better by Craig."
Nicholas: "We used to take the game to teams at Hampden Park but we were more organised under Craig. People like Charlie Adam and Steven Fletcher are attack-minded so we had to play that way, but we didn't and didn't score any goals; we tried to hang on when we scored one. This is the best batch of players we have had in eight years and so a freshness and the chance to build for the next World Cup under a new manager is what we need."
Walker on Levein's potential replacements
"Money will be a consideration and so the out-of-work Gordon Strachan, who is vastly experienced having worked at Celtic and in the English Premier League, may fancy a step up, while Walter Smith has been there before. Joe Jordan has worked closely with Harry Redknapp at Tottenham and enjoyed European competition and I'm not sure there is a more favourite son amongst the supporters. There will be no lack of candidates but we don't pay the sort of money that attracts guys to the Premier League."