Kenny Black surprised by timing of Craig Levein's sacking as Scotland manager
Kenny Black says Craig Levein was frustrated by results but had hoped to be given more time as Scotland boss.
Last Updated: 09/11/12 8:31pm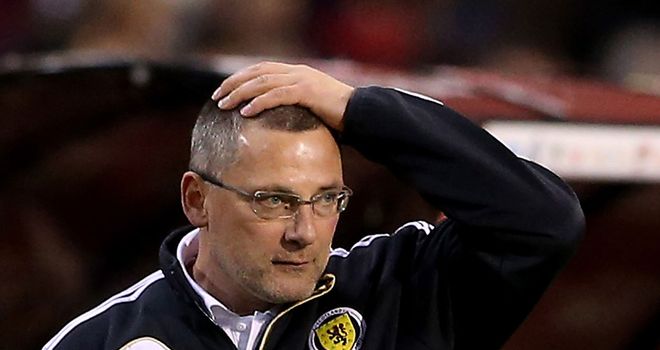 Levein was relieved of his duties by the Scottish Football Association on Monday, 20 days after the 2-0 World Cup qualifying defeat by Belgium and 24 hours before he was due to announce his squad for Wednesday's friendly against Luxembourg.
Black hoped they would have been given longer to turn results around but revealed the main disappointment was the timing of the decision, which came after four days of discussions and deliberations by the SFA board.
Levein has already admitted he was disappointed at the process and is seeking legal advice after the governing body said they would honour the remaining 20 months of his contract.
Black has now left his non-contract role with the national team, but he revealed SFA chief executive Stewart Regan had raised the possibility of him helping out in Luxembourg, where Billy Stark will take the team.
Black, Levein's former team-mate at Hearts, said: "We were as frustrated as anyone and Craig was really, really passionate about being manager of his country.
"He was frustrated and disappointed with results but felt we could have got a bit more time and hopefully have got to March and the games against Wales and Serbia.
"When he's concentrating on assembling his squad for the Luxembourg fixture, the timing of the departure was a surprise to everyone."
Black felt Levein should have been treated as the former Dundee United manager would have treated others.
"He is certainly a fair man," the Motherwell coach said. "I know all the players who we assembled under his guidance all enjoyed working alongside him and I think that left a bad taste in his mouth, the fact how he treats people wasn't replicated in that way."
Straightforward
Black revealed there was no prospect of him staying on when he spoke to Regan on Monday.
"It was straightforward to me - once Craig leaves the post I go with him," he said.
"They did sound me about my thoughts about going on the trip and I explained to Stewart the Luxembourg one would be very, very difficult for me to go on because I was part of a team along with Craig and Peter (Houston) and once the decision was made about Craig it was straightforward for me to walk away."
Despite Levein's belief he deserved more time, the SFA board ultimately agreed with many fans that three wins from 12 competitive games was not good enough, and Black found the record difficult to explain.
"I can't quite put my finger on that one," he said. "We had some really, really good friendly results. Obviously that doesn't make it any easier to qualify.
"We were in a really tough group for the Euros against the world champions and the Czech Republic were the team we were gunning for.
"The game against Spain was a lot more like ourselves when we battled back to 2-2 and we were unfortunate not to take something from the game.
Legacy
"There were definitely some positives in the friendly results but the negative was the qualification results weren't as good as we would have liked.
"One or two decisions didn't go our way, the Czech Republic game at home and the decision to disallow Steven Fletcher's goal down at Wales."
But Black believes Levein has left a good legacy to his successor.
"There is no question the squad is a lot stronger," he said. "You just need to look at the guys in the squad who are plying their trade down in England in the top division.
"There has been a lot of work behind the scenes to promote the younger ones coming through.
"Unfortunately Craig will not be there to see the fruition but over the next few years I'm sure things will take an upwards curve for Scotland."