Soccer Special pundits reflect on disappointing night for Northern Ireland, Republic of Ireland and Scotland
Iain Dowie says Northern Ireland are out, Graeme Sharp calls for Graeme Souness as Scotland boss and Pat Bonner fears for Giovanni Trapattoni...
Last Updated: 15/11/12 11:39am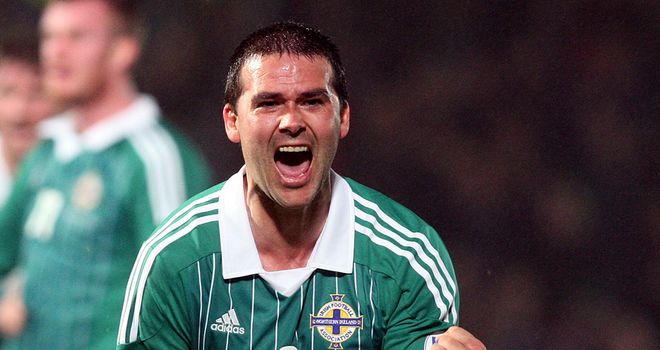 "I've got to say I've watched Northern Ireland a lot - and I've played for them a few times - and we've never created as many chances as that. It was chance after chance and I feel sorry for Michael O'Neill. If you gift sides a goal like they did - it was fairly poor defending albeit a wonderful strike - in international football, it's going to hurt you. It was a game against a very poor Azerbaijan side who were missing six or seven players and every time the ball went in the box it looked like a chance. I'm talking six gilt-edged must-score opportunities and every one of them went begging and in the end it was probably our poorest move of the night that ended up as a goal for David Healy. Two points from Luxembourg and Azerbaijan, if you want to get out of a group like this, unfortunately is not good enough.
"We've got to try to find a different way to get results because at the moment we're just not doing it. Tonight is very difficult to judge because Azerbaijan didn't put up a great display in terms of how to defend and Northern Ireland had chances. I still think we've got to be resilient at the back and try to score on the counter-attack, I think that's the key element. There were some good displays, but in the end it's a very disappointing start to the campaign.
Graeme Sharp on Scotland's 2-1 friendly win in Luxemburg
"It was always going to be a difficult game. When they arranged the friendly we thought it would give them some confidence for the World Cup campaign, but obviously that's over now so this was one to try out a few new players. In the first half the positives were Jordan Rhodes and two more international goals for him and I thought the performance of Paul Dixon at left-back was another positive. After the first-half I thought we struggled, as Luxemburg got into the game and scored a great free-kick shortly after half-time. Scotland looked ragged at times and I thought they might have made a few more substitutions and given a few more of the debutants a chance.
"Personally, I would like to see Graeme Souness get the job, but I don't think he wants it. Gordon Strachan is the fans' choice by all accounts, Owen Coyle's been mentioned and Joe Jordan is an outside bet; he would get the players playing for him."
Pat Bonner on Republic of Ireland's 1-0 defeat at home to Greece
"Unfortunately for Giovanni Trapattoni the pressure will be on him. I'm sure he'll go back to Italy and enjoy his Christmas, but they'll be talking about that defeat in Ireland, which will build on the defeat in Germany and won't make good reading in the papers for him.
"The second half was better. They changed their shape a little bit, had Wes Hoolahan playing off the front and tightened up the midfield to get more possession. The quality of the ball into the box wasn't there and they only had a few chances. There was a poor crowd also and that has big financial implications for the FAI, who have bills to pay, so overall it's not great at the moment for the Republic. The only consolation out of it is that they're sitting with six points out of nine and can go and contemplate what they have to do going forward."