Scotland players enjoy first training session under new boss Gordon Strachan
Mark McGhee revealed Scotland's players had to be calmed down at Gordon Strachan's first training session in charge.
Last Updated: 05/02/13 10:41am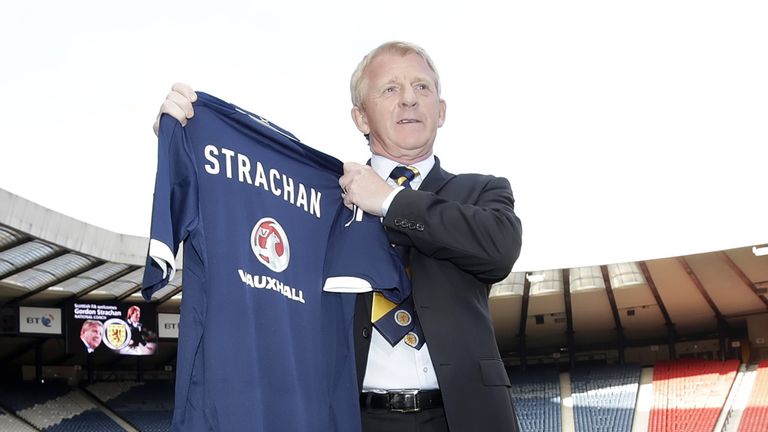 As Scotland prepare for their friendly against Estonia on Wednesday, assistant coach McGhee said the Aberdeen training ground was full of enthusiasm.
"With that little bit of nervousness with a new manager and new voices, there was a great deal of enthusiasm to the point where at times we had to say 'calm down'," he said.
"The early part of the little game we played was a little bit hectic because of that enthusiasm.
"So in that respect you can't fault them, those who were out there got on with it and it was good."
The former Motherwell, Aberdeen and Bristol Rovers boss added: "Before every new job you have a certain amount of nervousness, you are getting to know players.
"For Stuart (McCall) and I it is a different role than either of us have been used to.
"It is not that long since I was coaching but in the first few minutes you hear your own voice, you hear yourself talking and you get a little bit of an 'out of body' experience because you are nervous about how you are sounding and then you settle into it and it is fine.
"And it has been a long, long time since I took a warm-up. I've stood and watched for however long it has been and you don't always take it in and when it comes for you to do it it is different but I enjoyed it.
"But whatever we do, whoever we play, and however we train, Gordon is the architect of that and Stuart and I are the civil engineers, we put it together, as it were.
"We are only there for Gordon and what happened today is what will happen.
"When it came to the part of the training that was appropriate to what we are going to be doing in terms of the game, Gordon stepped in and it was his input then."
The Scots have not qualified for the finals of a major tournament since the 1998 World Cup in France, but McGhee believes his side are certainly good enough.
"There seems to be a form about the players which is positive," he said.
"I think if we can engage that in the game and take that club form in to the international game then we will be good enough.
"I think we have enough ability in the squad, it is now up to us to put it together in a way that gives them the opportunity to express themselves to the best of their abilities."