Group A: Marc Wilmots keeps Belgium expectations in check
A look ahead to Friday's action in World Cup qualifying Group A.
Last Updated: 06/06/13 5:26pm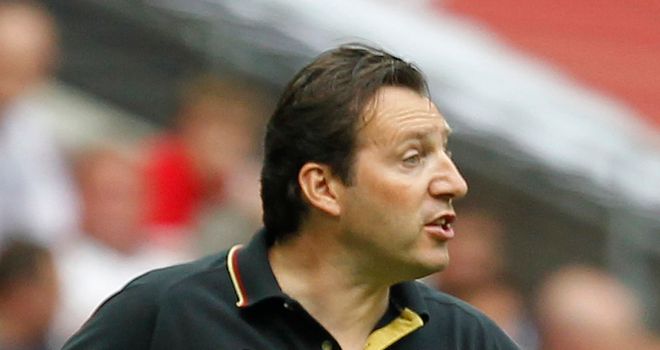 His side are top of Group A on 16 points, ahead of Croatia on goal difference, and a win on Friday would guarantee at least second place.
That is not enough to secure a place in Brazil next year as only the group winners are certain of that, but it would represent another step forward for a
talented Belgium side.
"We will play our game as we should do and we will do everything to win," said Wilmots. "This is the last game of the season but for me it is only the seventh
of the 10 finals we have to do.
"We will not qualify and we will not be eliminated [tomorrow]. There will be no need to jump for joy.
"There are three points to take and we will do everything to take them."
Wilmots has had a successful first year in charge of the national team but he puts all their progress down to the quality of the players.
"The talent was already there but the greatest achievement is that players do not think of themselves," he added.
"They are not sulking as they sit on the bench and that's important - if they did it would soon be a problem with me.
"I have made a few changes but players who know their job often make the difference."
The last time the two sides met Belgium won 3-0 in Belgrade, and Serbia's Branislav Ivanovic knows they will have an even more difficult task in Brussels.
"The Belgians enjoyed an emphatic win in the end but they didn't outplay us and we have learned our lessons from the defeat," said the Chelsea defender.
"It's going to be a tough task to beat a talented Belgium in Brussels but we never lose hope."
Second-placed Croatia have an apparently easier job at home to Scotland, who are bottom after taking just two points from six matches.
Their Brazilian-born striker Eduardo is desperate to play in a World Cup in his homeland.
"It is a dream of mine to play in my first, and possibly my last, World Cup in my home town of Rio, close to my friends who support me," the 30-year-old told fifa.com.
"I'm really excited now and have a lot of motivation to do this in what I expect is my last try, so I will do all I can to qualify for Brazil.
"It would mean so much for us to qualify, but we still have a job to do."