Wembley hero Don Hutchison says Scotland will have advantage over England
Scotland players' match fitness will give them the edge over England on Wednesday, according to Don Hutchison.
Last Updated: 12/08/13 1:56pm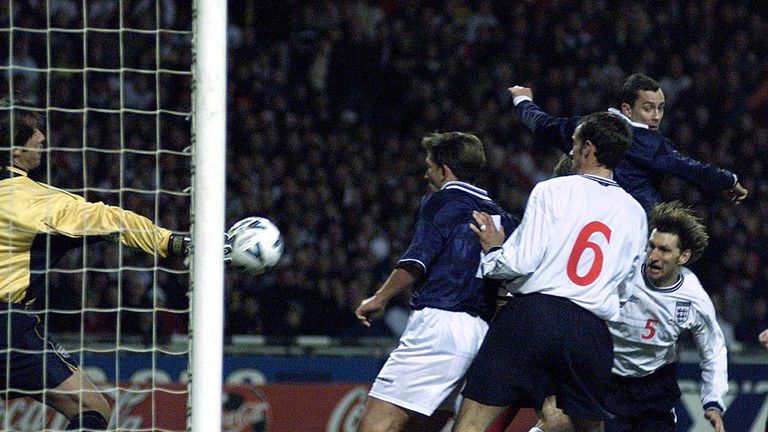 Don Hutchison's header gave the Scots a 1-0 victory at Wembley in the autumn of 1999, although that scoreline was not enough to prevent an aggregate defeat in the play-off for Euro 2000.
And the former Liverpool midfielder told Sky Sports News the early start to the Championship and Scottish seasons will count in his country's favour when football's oldest rivalry is resumed this week.
He said: "With six days to go for the Premier League boys, they could be at a disadvantage.
"The last thing you want is to do two-and-a-half months of pre-season work and end up picking up a knock in this game and not being fit for Saturday.
"I think the likes of Wayne Rooney will obviously want 45-60 minutes to try and get ready for Manchester United."
Celtic's Charlie Mulgrew, James Forrest and Scott Brown have all featured in both domestic and European competition already this season, while Blackburn striker Jordan Rhodes is one of several Championship players in Gordon Strachan's squad.
"Scotland will go into the game with a slight advantage having all their players up to speed," Hutchison said.
"Jordan Rhodes has played two or thee games, and the Celtic boys have played half a dozen with their Champions League qualifiers, so they'll be more up to speed.
"But come kick-off time I'm sure both teams will be looking forward to the game and will be right at it."
Hutchison would be in favour of restoring the fixture to the calendar on a more regular basis.
He said: "It's good for players, and the fans go up against each other as well - no doubt the Tartan Army will take 25-30,000 down to Wembley.
"And if the young players can play in this game and perform well there's no reason why they can't do that in competitive football."
Craig Brown, who managed the Scots for the famous play-off 14 years ago, is in no doubt that the fixture has more meaning for north of the border, and is forecasting an away win.
"People say that this an early season friendly fixture," he told Sky Sports News. "We do not play friendlies against England. This is an important game and I do not think England will take it casually, not with Roy Hodgson in charge.
"Scotland had a magnificent result in Croatia and Gordon Strachan will be very keen to build on that and I'm sure we will do so at Wembley.
"The Scots are very keen to beat England at Wembley. There may be an inferiority complex in terms of population but not in terms of football.
"It would be very nice to go down there and do what we did in 1999 (a 1-0 win) and I am confident we can do exactly that."