Germany: Alan McInally looks at Joachim Low's side's success
Alan McInally says pride in the shirt and a clear formula are the reasons for Germany's success.
Last Updated: 11/10/13 10:44am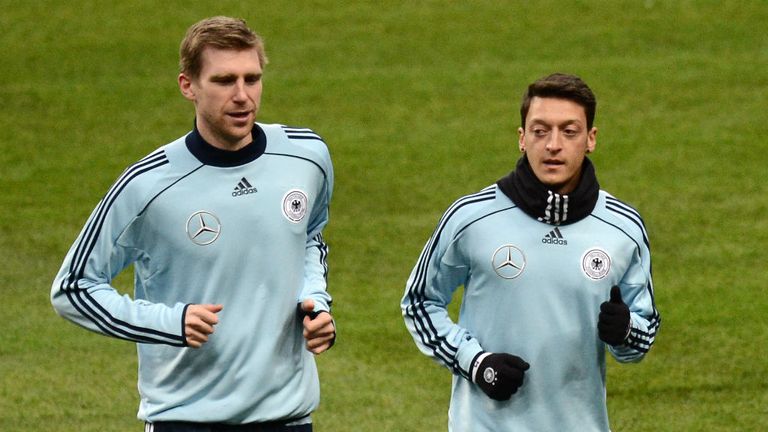 While England are still far from certain to qualify for the South American showdown next summer, and Scotland, Wales and Northern Ireland having seen their hopes of a place extinguished long ago, Joachim Low's squad have sauntered to the top of Group C.
Germany have won seven of their eight encounters - only dropping points when losing a four-goal lead to draw with Sweden in Berlin in October 2012 - with Borussia Dortmund starlet Marco Reus netting five goals along the way.
skysports.com asked former Bayern Munich and Scotland striker Alan McInally what makes Low's charges - who have only failed to reach the last four of a summer tournament once since the 2002 World Cup - so good, and where the Home Nations fall down in comparison.
Plus, the Soccer Saturday regular gave his take on another side who could book a World Cup berth this week, Belgium, and how optimistic he is that Gordon Strachan can get Scotland firing again...
How strong do you consider Germany to be at present?
ALAN SAYS: Germany might be as strong now as they have been in the last four or five summer tournaments, which says a lot considering they have reached the semi-finals of the last two World Cups and European Championships respectively. They have got a good group of experienced players and some young guys coming through, with many of them having experience of getting to - and now winning - Champions League finals, not to mention success in the Bundesliga. Plus, their preparation is good, and there does not appear to be much in-house fighting or a drinking-until-four-in-the-morning kind of style.
Why do Germany seem to thrive in World Cups and European Championships?
ALAN SAYS: What they also seem to have grasped - and something England haven't - is how competition football works. All the young players are made - unless they have suitable excuses - to turn up and represent their country at Under-20 and Under-21 level, whereas some of England's players think they are too good for that once they have made the first team for their clubs. By the time the Germans get to the first team for their country, they know how tournaments work, know how to deal with being away from home for seven or eight weeks at a time, and because the players they are playing with are their peers from the lower age group, they feel comfortable and are able to deliver quicker.
What has been key in Germany's continued rise as a footballing nation?
ALAN SAYS: The upsurge in German football has been down the to the changes they made around a decade ago which improved the game domestically as well as internationally, proved by Bayern Munich and Borussia Dortmund making it to the Champions League final last year. Their coaching regimes have been altered which has allowed players to develop, but what they have done right - and what some of the Home Nations have done wrong - is always look in house for a manager.
Joachim Low, who succeeded Jurgen Klinsmann as coach in 2006, has had a long spell in charge and that has given him the opportunity to nurture a team and make gradual changes, but we tend to go down the foreign-manager route, which usually becomes a complete hash. We tell our young coaches to take all their coaching badges and then hand the manager job to a man from another country. It's a nonsense.
Do Germany also have a clear footballing philosophy?
ALAN SAYS: Yes. I'm sure managers of England and Scotland have a clear idea but Germany have showcased their set way of playing for a while, with minimal alterations in the last two or three years. There was a meeting a while back between Low and all the German clubs where it was stressed that they wanted one way of playing, this 4-2-3-1 formation that served Bayern and Dortmund so well last year. If you are doing that for your club, it makes it so much easier to do the same thing for your country and it would make sense if lots of FAs and clubs followed the German example, but I guess it can be difficult to implement.
Are Germany's players more passionate about international football than England's?
ALAN SAYS: German players see playing for their country as the pinnacle - but there's no way playing for England still carries the honour it used to; I think the players are absolutely delighted if they get picked for their country and over the moon when they pull on the shirt, but I don't think they give as much of a damn if they are not in the squad, a squad player should not be paid to be part of it. In Germany the bar has been raised so high that the young players are desperate to be part of it and England need to get that back because at the moment I don't think young players are bothered. That is a real shame as while I have played abroad there is nothing better than representing your country.
Belgium are on the cusp of World Cup qualification, too. How good are they?
ALAN SAYS: I don't think, other than Germany, that there is any European team with a better chance in South America next year than Belgium. Belgium's current crop of players is extraordinary; they have a real abundance of talent, talent that is still young enough to develop, and while they have star names like Eden Hazard and Marouane Fellaini, I think they are actually better than they are given credit for. They have coasted through qualifying but I don't think they are playing with as much conviction as they can because they have never had that expectation before and never been seen as an international force. Belgium will surprise a lot of people in Brazil and I think they will be right up there for not just the World Cup but in the Euros in France in 2016.
And finally, how confident are you that Scotland are on the up?
ALAN SAYS: I have known Gordon Strachan for a long time so know just how bloody-minded he is, but he has mellowed a bit and just wants to see some improvement in Scotland's game. There has been some - we won 1-0 in Croatia and we made sure things weren't easy for Belgium - but the problem for Gordon is that he doesn't have a massive pool of players to pick from. Things are still very much a work in progress but I hope the work being done stands us in good stead for the Euros.