Alejandro Bedoya glad to be back in Scotland for friendly with USA
USA midfielder Alejandro Bedoya insists he has 'nothing to prove' after returning to Scotland for Friday's friendly.
Last Updated: 22/11/13 10:26am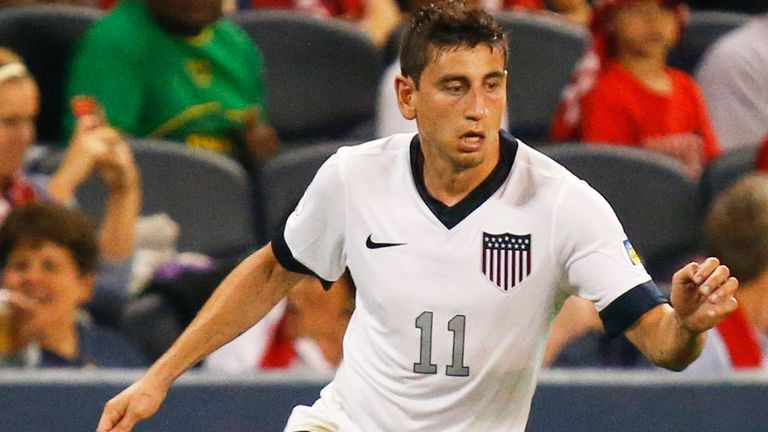 Bedoya spent a brief spell with Rangers before the club entered administration and made only a handful of appearances before he moved to Helsingborgs.
The 26-year-old, who currently plays for Nantes, is preparing to face Scotland at Hampden Park and insists there is no added pressure to perform well.
"I don't feel like I have anything to prove," said Bedoya. "I know what capabilities I have and I know where I am now in my career, playing in Ligue 1 for a great side like Nantes.
"It didn't turn out the best way on the field for me here but, for me, it's just about proving I belong in the (USA) team."
He still keeps a close eye on Rangers' results and hopes they will return to the top tier of Scottish football in the near future.
"It's a club with a lot of tradition and history," said Bedoya. "When I came in, I was really looking forward to it but I couldn't have come at a worse time. It is what it is.
"I still enjoyed some good times and I played with some good players and I enjoyed the banter.
"The fan base is remarkable and everybody knows that. Hopefully they will come back to the top and be back where they belong soon.
"I'm still following them on Twitter and I keep up to date. I know they are on an unbeaten streak just now.
"With the things off the field, it's a shame to see it still going on.
"It seems like people are walking in and out of the door and there is so much uncertainty and not many things are settled.
"It's a shame to see but I'm sure they will be kicking on."
International team-mate DaMarcus Beasley was at Rangers from 2007 until 2010 and expects them to continue their rise through the leagues.
The Peubla winger said: "I still keep tabs on Rangers pretty much every week to see how they do even though they are down a couple of levels now.
"It doesn't matter. I was part of this team for three years and we won a lot of things together.
"I want to see them get back up to Champions League football and playing Celtic in the derby matches.
"I'm excited for the next couple of years and to see them get back up to where they need to be.
"I was disappointed and a little bit hurt to see what happened to Rangers. Rangers are a big club and the fans have stuck by the club.
"We are all pushing for them to get back to where they belong."