Internationals: Jurgen Klinsmann's USA ready for 'benchmark' game against Scotland
Jurgen Klinsmann says the USA are out to prove a point against European opposition as they up their World Cup plans.
Last Updated: 14/11/13 10:18pm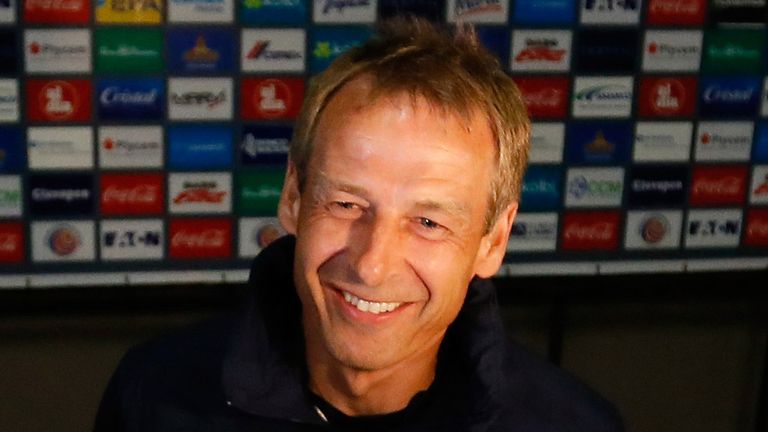 Klinsmann's side face Scotland at Hampden Park on Friday and will then take on Austria in Vienna next week, as next summer's showpiece tournament in Brazil nears.
"We wanted to go to Europe specifically and prove a point, that we want to compete one day with the best in the world," Klinsmann said.
"It will take some a while to get there but we are going through a process of
improvement.
"This game is going to be a benchmark for a team trying to do better. It is part of a learning process and we are looking forward to it.
"It is sad to see that Scotland didn't qualify because everybody wants to see
Scotland in the World Cup, also because of their fantastic fans. They are always emotional, they give you everything they have, so it is a good benchmark."
Klinsmann's men beat Scotland 5-1 in their post-season friendly match in Jacksonville in 2012 but the former Inter Milan, Bayern Munich and Tottenham striker said: "It is a completely different game and we are well aware of that.
"Scotland did us a favour coming over after their season was over, in 95 degrees, and we knew it was going to be very difficult for us.
"We were on a totally different page then. We know that Scotland in any given
moment, can score and can beat us so we are going to be very alert."
Goalkeeper Tim Howard admits he is hoping to silence his "chirping" Everton team-mate Steven Naismith.
"We know what they offer in attack and I will certainly do my best to keep Naisy out as I will never hear the end of it," Howard said.
"He has spoken to me about the game, he has been chirping in my ear for the
last two or three weeks but I have kept quiet.
"They are dangerous, certainly, we will have our work cut out. Steven Fletcher is a natural goal scorer, Robert Snodgrass is tricky. We know what they offer and we know what to expect. It will be very difficult for us."