Glasgow launches its bid to become one of the host cities of Euro 2020
Glasgow has officially launched its bid to become one of the host cities of Euro 2020.
Last Updated: 24/04/14 6:19pm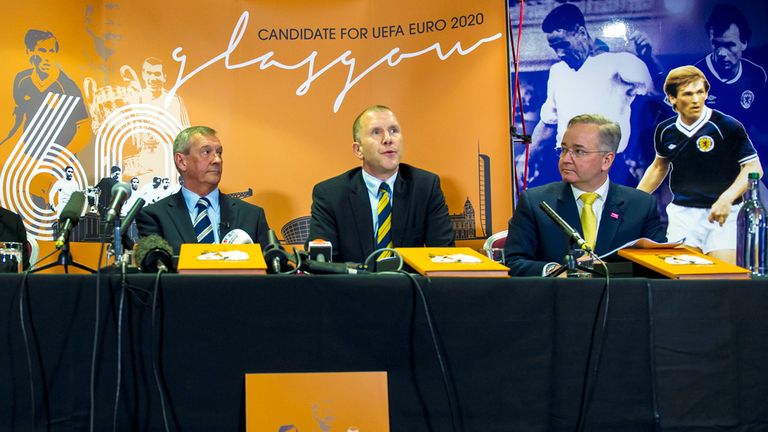 The tournament will be played in 13 cities around Europe and Glasgow hopes to capitalise on what is predicted to be a successful Commonwealth Games this summer in the city.
London, Cardiff and Dublin will also be among around 30 cities to formally submit bids to UEFA on Friday, with a decision being taken by the governing body's executive committee in September.
"There were 32 interested parties, we believe that is now down to below 30, and within that there is four bids from the UK and Ireland," said Scottish Football Association chief executive Stewart Regan, who hopes to stage the fixtures at Hampden Park.
"It is highly unlikely that there will be four winning bids from the UK and Ireland.
"Our job is to try to convince UEFA that Glasgow should be one of the preferred options for the UK and Ireland zone, if there is to be such a thing.
"Our view is that we have a compelling bid that proves that the Scottish FA can put on major events with its partners.
"We have demonstrated that Scotland has a lot to offer, not just in terms of tourism but in terms of infrastructure and we can stage major events, and that if there is to be a safe pair of hands, the Scottish FA would be viewed that way by UEFA and its executive committee."
The Scottish Government and Glasgow City Council, along with other agencies, have joined forces with the SFA to put together the bid.
Regan, however, does not believe that Glasgow's rich football history and its renowned passion for the game makes the city a deserving case.
"I don't think it is about deserving it," he said. "It is about proving that you are the right bid at this particular time.
"I don't think anything can be handed to Scotland on a plate because we have a long history of playing football and we date back to 1873.
"This is about a bid that is A; compliant, and B; compelling enough to win the hearts and minds of UEFA's executive committee.
"I think we have done as much as we can do."