Euro U21 qualifiers: Hibernian duo Sam Stanton and Danny Handling will not feature for Scotland
Hibernian duo Sam Stanton and Danny Handling will not feature for Scotland Under-21s against Holland on Wednesday.
Last Updated: 26/05/14 4:42pm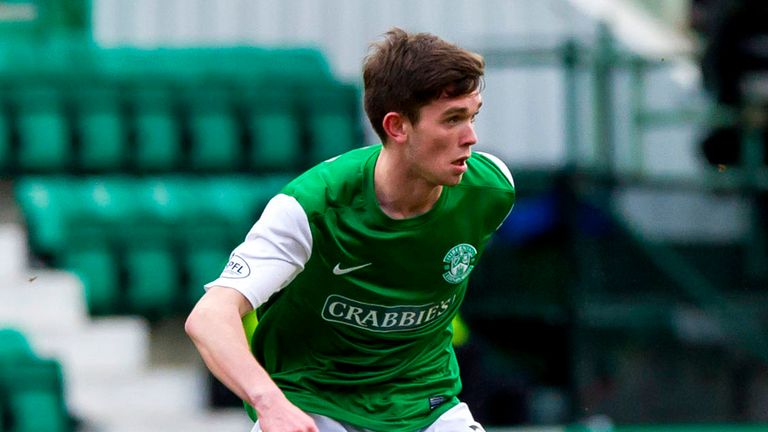 The pair were in the squad for the UEFA European Under-21 Championship qualifier against Holland but boss Billy Stark has told them to stay at home.
They will miss the game at St Mirren Park after Stark decided the stunned 20-year-olds would put the squad's feel-good factor at risk.
He said on Monday: "The lads are in a state of shock. Some fans might think that players don't care what happens but they were distraught when I spoke to them last night.
"They felt humiliated and I just felt it would be very difficult for them to come here the next day with a spring in their step and a smile on their face.
"The squad needs positivity around it so I made the decision with the lads' full backing that they should stay at home.
"I told them that if they thought the best thing for them would be to come here and get away from it all, then they were more than welcome.
"But they agreed with me that the state they were in, that would be difficult."
Hibs were relegated to the Championship after blowing a two-goal lead at Easter Road on Sunday before losing their Premiership place to Hamilton on penalties.
But Stark insists their play-off nightmare will not haunt their young careers.
"I told them during my chat that as a good professional, you need to learn to deal with disappointment," he said.
"I can't imagine they will have any greater disappointment than getting relegated with Hibs because it is a big club. No-one would have seen it coming three months ago.
"It's a shock but they will recover and it will not stunt their development."
Scotland currently sit fourth in the five-team Group 3, six points behind leaders Slovakia.
After facing the Dutch on Wednesday, they then take on Luxembourg and the group leaders away from home, and Stark admits maximum points are required if his side are to reach the finals in the Czech Republic.
"We need three wins to qualify," he said. "You can be optimistic and hope results elsewhere will go for you but history tells you that you need 15 points to qualify.
"We've got seven right now so nine more should get us there. But it's easy saying that. Now we need to go out and get them."
Watch Scotland U21 take on Holland U21 live on Sky Sports 1 at 7.45pm on Wednesday.