European U21 Championship qualifying: Billy Stark upbeat despite Scotland thrashing
Billy Stark will stay positive despite Scotland U21s' 6-1 thrashing by Holland in European U21 Championship qualifying.
Last Updated: 29/05/14 11:49am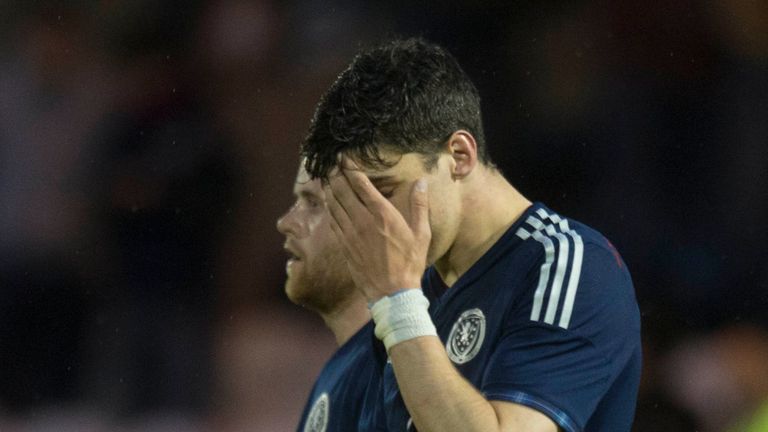 A first-half hat-trick by FC Twente winger Quincy Promes gave the home side a lesson in finishing and the visitors a comfortable interval lead in Wednesday night's clash.
Manchester City defender Karim Rekik - who spent last season on loan at PSV Eindhoven - made it 4-0 with only five minutes played in the second half and a quick-fire brace from substitute Hakim Ziyech compounded the home side's misery before Stevie May grabbed his 28th goal of the season as a consolation with five minutes remaining.
Stark's side, who had lost 4-0 when they played the Dutch side in September, remain in fourth place in Group Three, six points behind Slovakia and Holland.
The Scots could still make second place but with a points tally unlikely to give them a play-off place as one of the four best runners-up.
Asked if he was fed up with being so close to reaching the finals, Stark said: "Not at all. It is a competition where there is no margin for error.
"You have eight games and you know you need 16 points minimum and in my time we have finished second, first and second and in this campaign it hasn't happened for us.
"Each group of players brings a freshness and we have introduced some younger ones that will keep progressing, as well as others who will come through to form a good squad for the next campaign.
"We couldn't have prepared any better, we prepared as best we could.
"It is the first home qualifier that I have lost in six years and it is a particularly sore one to be honest.
"But when it comes down to it, if you have a team who are very hungry and are better, quicker, stronger and you don't defend as well as you can defend, then that type of thing can happen."
Stark was keen, in particular, to stress the physical disparity between the two sides.
He said: "In a physical sense, before we talk about ability and the way the team functions, we are well behind so that is the first thing we need to accept.
"Half a second, half a yard, can make all the difference.
"And the Dutch have been working on the way they played for 30 to 40 years.
"It is the end of the road in terms of qualification, there is no doubt about.
"This group of players have had a very up-and-down campaign.
"But we were up against top quality opposition, so that can happen."