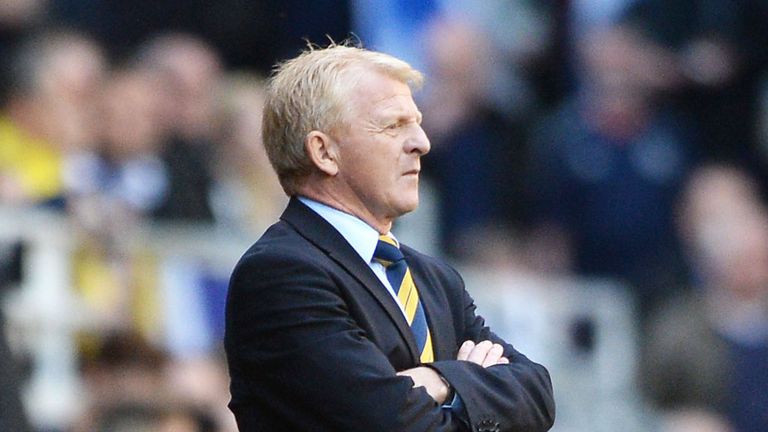 Scotland manager Gordon Strachan says he is not planning drastic changes to his team's style of play when they face world champions Germany this autumn.
The Scots kick off their qualifying campaign for Euro 2016 in Dortmund on 7 September, a clash which was given extra significance when Mario Gotze's late goal against Argentina secured the World Cup for the Germans.
However, while Strachan has plenty of respect for Joachim Low's side, he does not thinking changing his strategy on a one-off basis would be worthwhile.
Talking about the challenge facing his men, Strachan said: "I was writing down plans in the last couple of weeks when I looked at the board and thought 'yeah, I've cracked it'.
"And then I realised I had 14 players playing!
"But we're not going to change. You could chop and change for everybody you're playing against, but it could confuse the players.
"We have a couple of ways of defending and we're working on our attacking, which I saw in the Nigeria game (a 2-2 draw in a pre-World Cup friendly), where there was more variation.
"But that will take time to really click. Until that time we want to keep on winning football games and gradually get to where we want to go.
"You build your team on what you've got. If you look at the likes of Costa Rica, Algeria, Chile and Australia (who all arguably exceeded expectations at the World Cup), they didn't have top, top players, so what they do is look like a team.
"They actually have to work harder because they've not got the stars to win games.
"We're in that bracket. We hope we will have a team unit that can play against anybody, until the time we develop world-class stars.
"We're confident that, with the style we've got, we can give everybody a game."
Strachan is pleased Scotland will be facing the World Cup winners, adding: "I just think it makes it more exciting.
"It's gone up a level and we're looking forward to it. It's a fantastic experience for us.
"We're all looking forward to it as coaches and players. We want to test ourselves against the best teams.
"The Germans, of all the top sides, they look like a team. The other ones were based on an individual, waiting for individuals to produce a certain bit of form.
"But the Germans were a team. That's the type of football that's winning games just now."
Germany v Scotland will be live on Sky Sports 5 on 7 September