Collins keen to honour Speed
Danny Collins is hoping Wales can pay a fitting tribute to Gary Speed by qualifying for the 2014 World Cup.
Last Updated: 28/11/11 10:13am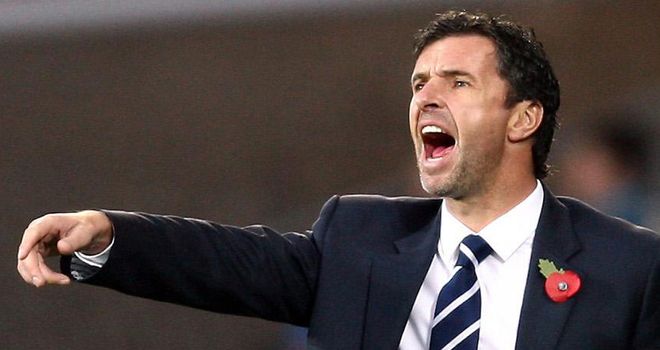 Danny Collins is hoping Wales can pay a fitting tribute to Gary Speed by qualifying for the 2014 World Cup.
A nation is still in shock following the news that Speed passed away on Sunday morning at the age of 42.
Tributes have poured in from the football community and beyond, with a tragic loss keenly felt by all those who came into contact with the former Leeds, Everton, Newcastle, Bolton and Sheffield United midfielder.
Collins worked under Speed during his time as manager of the Wales national side and was impressed by the job he was overseeing.
Results had turned around over recent months and positivity and optimism had returned to the camp.
Tribute
Collins is hoping that Wales can build on the foundations put down by Speed and book their place at a major international tournament.
Asked how he would remember Speed, the defender told Sky Sports News HD: "As a great player and a perfectionist in what he was doing for us and as a genuinely nice guy off the pitch. He will be sadly missed by all of us.
"Hopefully we can get ourselves together and progress towards what he was trying to do for us as a nation. It would be nice and fitting if we could qualify for a major tournament and pay tribute to him."
Collins believes Wales are heading in the right direction as they chase that ultimate target, with Speed having overseen a dramatic reversal in fortune.
"He came in and took over a difficult job where we weren't doing too well and he has turned it around for us," added the 31-year-old.
"All of the boys are enjoying coming in when the squad is announced and we have had some good results in the last few months. We have progressed slowly and were getting through to where he wanted us to be - hopefully qualifying for the 2014 World Cup."
Stunned
For now, though, Collins, his international team-mates and the wider sporting world are still coming to terms with the events of a weekend that has shaken Welsh football to its core.
"We are all stunned," said Collins, who is currently on loan at Ipswich from Stoke.
"I got in from training yesterday (Sunday) and when I found out I couldn't believe it. We are all devastated as a team and as a country.
"He has come in and in the last year or so he has taken us forward as a nation. Results in the last few months have shown what he has done for us.
"It's hard to understand what has happened because, from what I gather, as a person and as a player he was well liked and there didn't seem to be any problems from the time I have spent with him in the Welsh camp. But you don't know what happens off the pitch, I suppose."