Thatcher proud of Speed time
Ben Thatcher has paid tribute to his former Wales team-mate Gary Speed, recalling what an impact he had on him.
Last Updated: 28/11/11 11:59am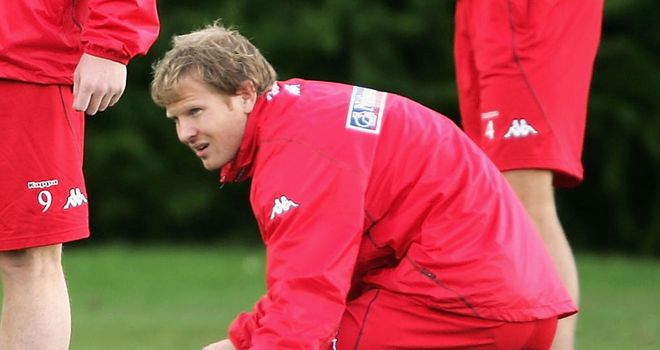 Ben Thatcher has paid tribute to his former Wales team-mate Gary Speed, recalling what an impact he had on him.
Wales boss Speed passed away on Sunday and his tragic death has hit British football massively, with tributes being paid from across the footballing world.
Talking to skysports.com, Thatcher revealed how Speed made him feel so welcome when he was first called into the Welsh set-up.
"I remember my first call-up, it was a bit strange but he was there straight away for me," the former Tottenham and Manchester City star revealed.
"He went out of his way for me, to show me around and introduce me to everyone in the squad and nothing was too much for him - he was great with me.
"He was a real 100 per center in everything he did, nothing was too much for him, he was such a proper man.
"When it came to it, he helped everyone and was happy to do it - he put himself out there and I was so gutted to hear about the news.
"Every one of my caps came with him, and I can only recall what a super man he was."
Rare breed
Thatcher admits that Speed was a rare breed in football, in that nobody had a bad word to say about him.
"In my house I don't have many shirts on my wall, about four, but the first one you see is actually that of Gary Speed," he continued.
"When you're in football and you leave a club you normally stay in touch with about half-a-dozen guys, and maybe that is about the same when you finish.
"But I know that isn't the case with Gary, everyone who came in contact with him looked up to him. To have played over 800 games speaks for itself, it shows that if anyone ever needed a senior professional, there was never a better example of that than Gary Speed."
Thatcher admits that the loss of Speed is a huge blow to Welsh football as a whole.
"There are times, like these, when football is the last thing on anyone's mind - but it is right to acknowledge what a great job he did and was doing with the squad," he said.
"When I saw the first match with England in Cardiff, they were soundly beaten and I wasn't sure at all and wasn't sure whether the fans would go for this.
"But then he comes out four or five months later and we see the performance at Wembley, and you think he had managed to do that in the space of a few months - it was remarkable.
"Then even the captaincy handing it to Aaron Ramsey, many questioned that, now look at him - he has relished the role and benefited from it. That sort of decision shows what he could have been as a manager, it is just really sorry that we will never find out how good he could have been."