Bale tribute to Speed
Tottenham and Wales star Gareth Bale has paid tribute to Gary Speed after he passed away over the weekend.
Last Updated: 28/11/11 1:32pm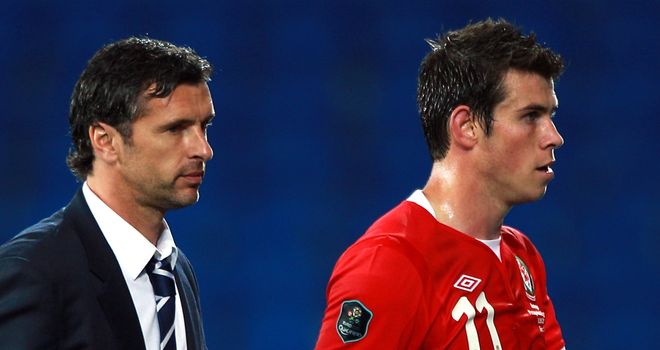 Wales star Gareth Bale has saluted Gary Speed after he passed away over the weekend.
News of Speed's tragic death was announced on Sunday and tributes to him have flooded in from around the world.
Now Bale, who was a key figure in Speed's Wales side, has added his voice to those remembering his now former international boss.
Tragedy
"It was a massive shock, I don't think anybody ever thought anything like this would happen," the Tottenham star said.
"Everyone is devastated and it is a massive loss to everyone in football.
"It is a tragedy, everyone still can't get their head around it and all our condolences go out to his family and his kids. It is a hard time.
"We were on the up, he changed the way we play and the whole mentality of our game. It is a massive loss, but we will try and carry on the best we can in his honour."
Sad time
Bale's Tottenham team-mate Kyle Walker played with Speed at Sheffield United and he paid his own tribute.
"I heard the news when my mum called me and I was gutted," he said.
"I worked with him at Sheffield United where he was a coach and it was a big step for me in my playing career. He was exactly as he came across, he was fantastic and it was a privilege to know him.
"My thoughts are with his sons and his family, my heart goes out to them. He was a great guy and this is a sad time."