Mackay - Speed legacy must go on
Malky Mackay has called on the Welsh FA to carry on the legacy left by Gary Speed during his time at the helm of the national side.
Last Updated: 28/11/11 2:29pm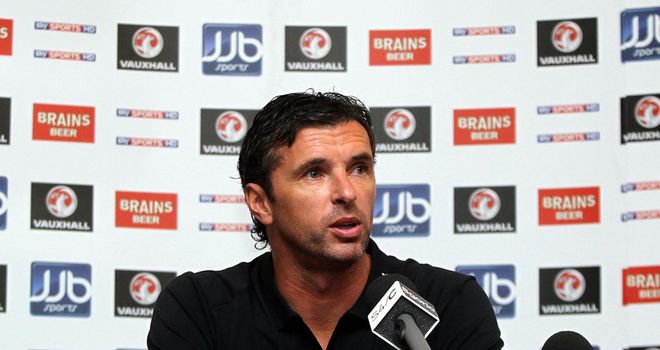 Cardiff manager Malky Mackay has called on the Football Association of Wales to carry on the legacy left by Gary Speed during his time at the helm of the national side.
Speed, 42, was found dead at his home on the outskirts of Chester on Sunday morning, with police saying there were no suspicious circumstances.
The loss of the former Leeds, Everton, Newcastle, Bolton and Sheffield United midfielder has led to an outpouring of tributes from within and outside the game.
Revitalised
Speed had revitalised Welsh fortunes after taking over last December, overseeing a recent run of four wins in five games that had raised hopes they could launch a genuine bid to qualify for the 2014 World Cup.
His desire for Wales to play a passing game while also implementing an analytical and thorough approach to match preparation made him a popular figure with his players.
And former Watford boss Mackay, who managed against Speed when the Welshman was at Sheffield United, hopes his good work can be carried on by the governing body and their next manager.
"You look at his career and the amount of games he played and the amount of top level teams he played for tells its own story of how professional he was," said Mackay.
"But at a personal level the amount of people of a high standing who have come out and paid tribute shows you the mark of the man and how well he was thought of in British sport.
"Hopefully he has left a legacy in terms of how that Wales team are playing now with the players he was playing in certain positions, and hopefully the Welsh FA can continue to restructure Welsh football.
"I know that one of the main things he was involved in was restructuring the Welsh FA in terms of how kids come through and have a pathway through to international level.
"His professionalism and how he conducted himself was something he was also looking to address at Welsh FA level and guide change.
"Hopefully that is something the next manager, his backroom staff and the Welsh FA can do."
Tragic
Wales and Bolton full-back Sam Ricketts is the latest player to add his voice to the tributes being paid to Speed.
He told Bolton's official website: "He was a great guy who was hugely respected for what he did as a player. Things have been moving forward for the Welsh national team recently and that was mainly down to him because he had come into the role and implemented his own ideas.
"Even though I have been injured, he has always kept me involved. He had phoned me several times to find out how I'm progressing and invited me down to matches to keep in contact with the squad.
"The fact he was such a nice guy makes it harder to accept the news. It's very tragic."