Vaughan reveals O'Neill rage
David Vaughan says Sunderland are desperate to atone for their defeat at Blackburn after experiencing Martin O'Neill's angry side.
Last Updated: 22/03/12 11:25am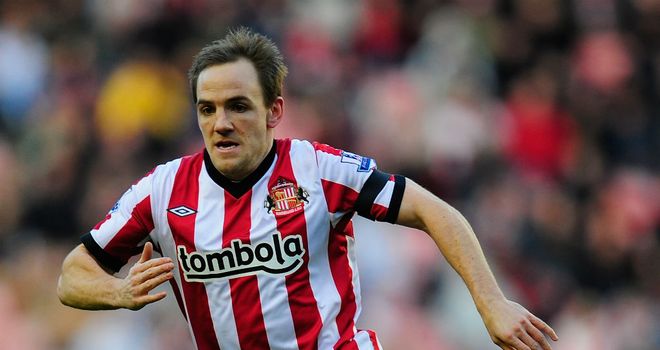 Sunderland midfielder David Vaughan says he and his team-mates are desperate to atone for their defeat at Blackburn after experiencing Martin O'Neill's angry side.
The Black Cats were on the end of a deserved loss at Ewood Park on Tuesday night after Junior Hoilett and Yakubu netted for Rovers in the second half.
The manager admitted after the defeat his side's performance was not up to scratch and says the display reminded him of their poor showing at West Brom last month which led to their heaviest loss of the season.
Setbacks
Those two setbacks are blots on what has largely been an inspired revival on Wearside under O'Neill and Vaughan is keen to get things back on track, starting at home to QPR on Saturday.
The 29-year-old also wants to avoid further angering the boss after the players received a dressing down following Tuesday's defeat.
"It was a very bad night at the office," Vaughan told the Northern Echo. "The manager told us one or two things he wanted us to put right.
"I think it was the maddest I've seen him, me personally. He wasn't very happy, but that's understandable because he has set very high standards for us.
"Now it is up to us to put things right and show what we're really about."
Vaughan admits he was baffled as to where it all went wrong for Sunderland on Tuesday following a strong run of results, including a hard-working FA Cup draw with Everton at the weekend.
"It was such a disappointing evening after the last few results," he said.
"After everything that we've managed to achieve over the last few months, it just isn't like us to play like that.
Unusual
"It was a very unusual performance for us - under Martin O'Neill. We want to put it right over the weekend and get back to winning ways.
"I think you just have to put it down to one of those things. If we were playing badly all the time then maybe it would be a reason to worry, but we've been doing really well. It is just hard to put your finger on it."
Despite the defeat, Vaughan remains hopeful of finishing inside the Premier League top eight, adding: "Eighth is still our minimum target. We want to win as many games as we can and get as far in the cup as we can too.
"But we want to finish eighth, which would be a great achievement after the first few months. To do that we've got to bounce back because Tuesday wasn't good enough from us. We're a better team than that."