Chris Coleman wants to take the positives into Wales' next game against Serbia
Chris Coleman is determined to take the positives from Wales' defeat by Belgium into their next game against Serbia.
Last Updated: 08/09/12 4:00pm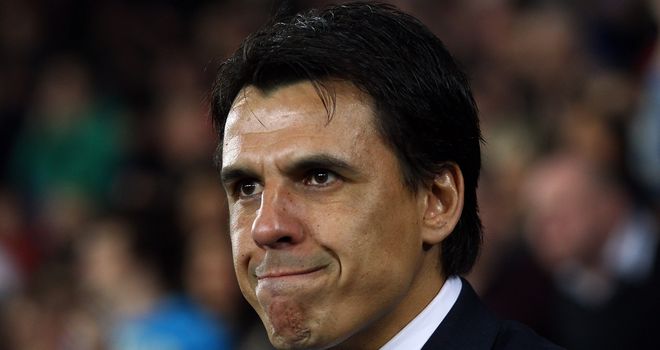 James Collins' first-half dismissal put Wales on the back foot at the Cardiff City Stadium before goals from Vincent Kompany and Jan Vertonghen earned Group A favourites Belgium an opening win.
Wales were without several influential players, such as Joe Allen, Craig Bellamy and Neil Taylor, and Coleman will again be short of options for Tuesday's game in Serbia.
That fixture takes on extra significance for Wales, who cannot afford to begin the campaign with back-to-back defeats and Coleman says that red cards and injuries will be no excuse.
He said: "It is important to get something. People are not going to look at our situation and say we had this guy and this guy and that guy missing, they are going to say 'you've got no points', which is fair enough.
"We have to show the same attitude as we showed against Belgium.
"We will try and keep 11 players on the pitch obviously and if we do that we will pick points up, I am certain of that. I am certain of that because we have just played the strongest team in the group and done well.
"I feel a lot better about our performance even though we didn't get the points, and these games are all about points.
"We have to look at the positives from this performance, and there were plenty of them.
"We have to take them across to Serbia and if we repeat many aspects of how we played against Belgium we will get a result, no doubt about it."